The Italian Garden on Garinish (aka Garnish) Island (aka Ilnacullin)
A little putt-putt ferry took us from Glengariff in West Cork across Bantry Bay to see the Garinish Island garden by Edwardian landscape architect Harold Peto. Despite the drenching rain, I was excited. A Peto garden!
But whether it was the quality of light on a showery day, the effect of my polarizing filter or the suddenly wonky 18-55 lens on my battered Nikon D40, all the shots from our visit seem oddly hued and hazy. Some look like the hand-coloured photographs popular around the time this garden was created in the first quarter of the last century.
That's all I have going for me, really, as these are the same views you'll see over and over in pictures of this lovely island garden – because Peto designed it that way. It's impossible to find a view that isn't highly photogenic – and, therefore, highly photographed. The plantings might be slightly down at the heel, despite being dotted with rare species, but his bone structure is pure gentry. Enjoy this little piece of garden design history.
And if you're interested in more, check out this blog devoted to Garinish Island.
Fine design details in the pool terrace paving
An architect before he turned to landscapes, Peto was a major proponent of Italianate garden style.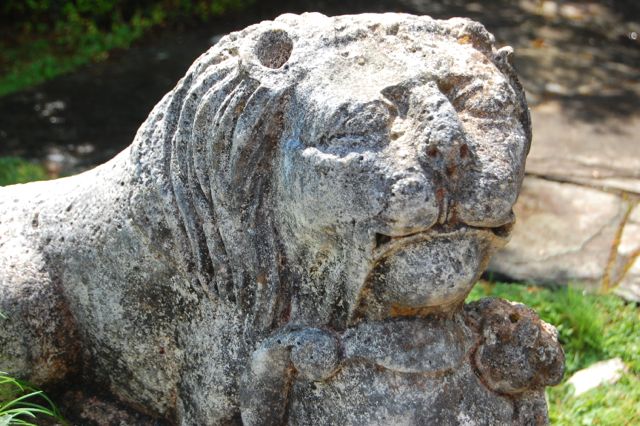 Weathered but wonderful lions are sadly succumbing to frost damage.
The view of the Casita or Teahouse from the Pavilion.
Step through the portico for a wider view.
And a little closer
Beyond the Italian garden is the Temple. Love the way Peto frames that borrowed view – and what a view
The Walled Garden, with its 17th-century gates.
Want to visit more Irish gardens?
We know that Toronto gardeners like to visit gardens around the world. So for more on our garden travelogue of Ireland, you can also read our posts on: