I wasn't the only one slathering over this lush boulevard planting in Forest Hill
It's time to mark garden tours on your calendar. Yesterday, the press – and that would include lucky old moi – previewed the city's "really big shoe" Through the Garden Gate, which on the weekend of June 8 and 9, 2013 (11 am to 4 pm) takes you into Forest Hill and South Hill.
Ah, the things you learn about your own city. Did you know we had such a place as South Hill? I didn't. It's the area south of St. Clair near Spadina Road (and Casa Loma), with the Forest Hill gardens just north of St. Clair. Nineteen gardens are on the tour, among which we previewed five.
As always, you should spring for the wee bit extra and get the two-day pass. It lets you tour the gardens without having to zip around at frantic, bumblebee speed. Buy tickets online at the link above, or in person at Bill's Garden Centre on Pape, EcoStems on Queen East, Plant World on Eglinton West or at the Sheridan Nurseries on Sheppard East or North Yonge Street. Or, of course, at the Toronto Botanical Garden gift shop. Through the Garden Gate is the TBG's primary fundraiser, and the monies from our garden voyeur fetish appreciation go to support its good garden works.
The other half of the garden above features imaginative, contemporary plantings by designer Aviva Rosenfeld of AKA Grow Inc. (sculpture by Ilan Averbuch). You'll be inspired by what she has done with EcoLawn and other grasses. I don't want to spoil the surprise. It isn't all about big spaces. There's also a tiny back garden, made in the shade and adorable.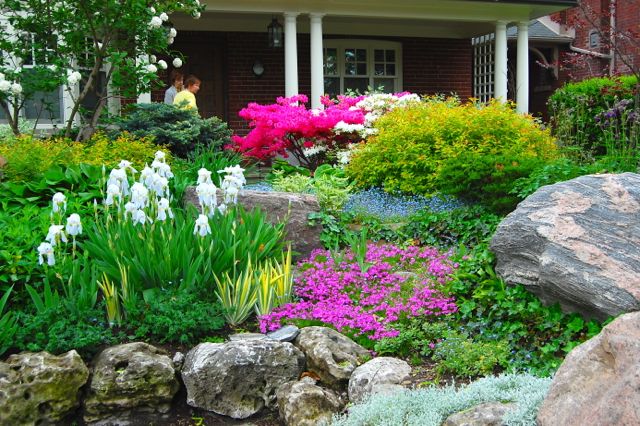 Around tour time, the azaleas and irises will be succeeded by peonies and spirea.
The back garden of the home above is like a country retreat. I loved the potting area behind the pool shed, and have it on my "things to build" list. Mr. TG has taken note.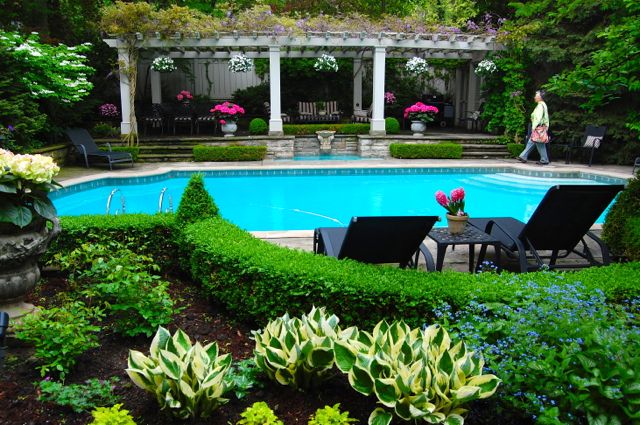 The owners of this charming garden aimed "to combine formality with plant exuberance." I think you'll agree they succeeded. This is only one of the garden spaces on view.
If you're lucky, you might get to step inside the fantasy greenhouse (well, my fantasy greenhouse) shown on the cover of this year's tour program. My photo of the exterior is cluttered up with peskily uninvisible humans.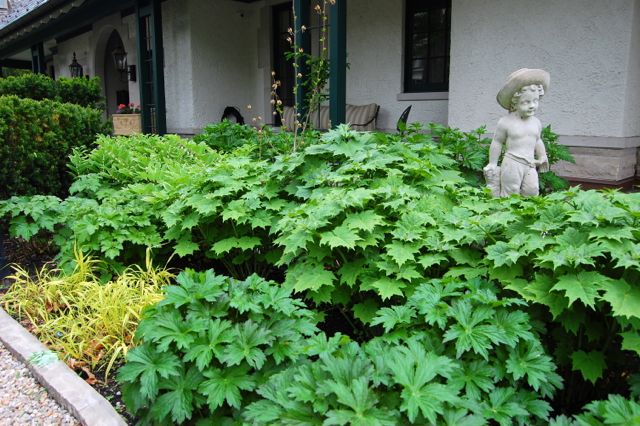 The owner of the greenhouse is described as a keen gardener, as the plantings make clear.
I call this garden "a day at the beeches" – three species of beech tree enclose the courtyard along one side. It dramatically illustrates how much colour can be included in a garden using foliage alone.
This weekend, I'll be going to another garden tour that happens only every couple of years. The Toronto Island Spring 2013 Garden Tour runs May 25 and 26 (noon to 5 pm). Buy your tickets after your ride over at the Ward's Island Ferry Dock. Perhaps I'll see you on Sunday.