The nodding bracts of prairie smoke (the actual flowers are hiding inside their pointy nose) blooming in May
Don't be entirely fooled by the name. The wildflower called prairie smoke (Geum triflorum) isn't restricted to prairies and is native to some parts of Ontario, the eastern limit of its natural range. As you'd expect, it prefers sunny, well-drained soils such as grassy fields but also withstands light shade such as at the edge of woodlands. In Ontario, it also lives in habitats called alvars, the thin soil that accumulates atop limestone bedrock, such as in the Bruce Peninsula. It's classed as endangered here.
The red or pink bracts that conceal a tiny flower at the central tip are pretty in themselves. But the real show comes from the fluffy seed heads. A mass planting fills your garden with pinkish smoke. Hope this melts the winter storm the weatherman has ordered for tomorrow.
Geum triflorum is a member of the rose family, although its seedhead resembles the buttercup cousins pulsatilla and clematis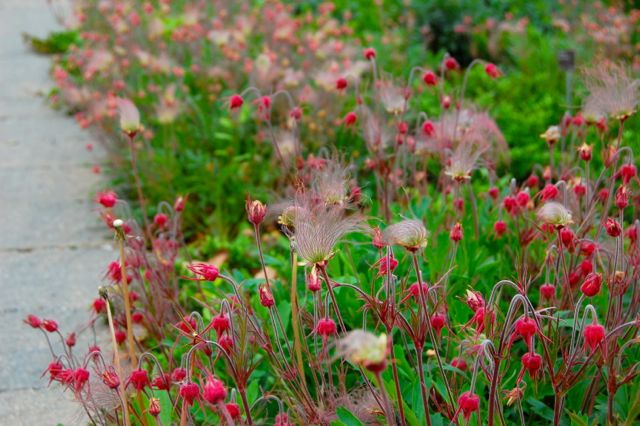 A large bed of prairie smoke beginning to live up to its name at the Toronto Botanical Garden, May 2011
Hunting to see "where there's smoke" online, I notice that Wildflower Farm offers plants, though I'd have to pick up my plants in person, and am reminded that I love their wildflower plant selector. Keep your eyes open for this one. Plant sales are coming up!