Who wouldn't want to sit in this shady nook? But wait, there's more.
This Friday's Idea File contains a single idea, but hopefully one that provokes thought. Sometimes we have our best ideas by turning something on its head. Go on, think of something. Now think of its opposite. Does it make you rethink your first idea? Or give you a fresh route to inventing new ones?
This is a creative strategy that works for me in my other life as a copywriter, when I do things like help create names for companies and products. So here's the idea: an upside-down tree house. The picture above is the top.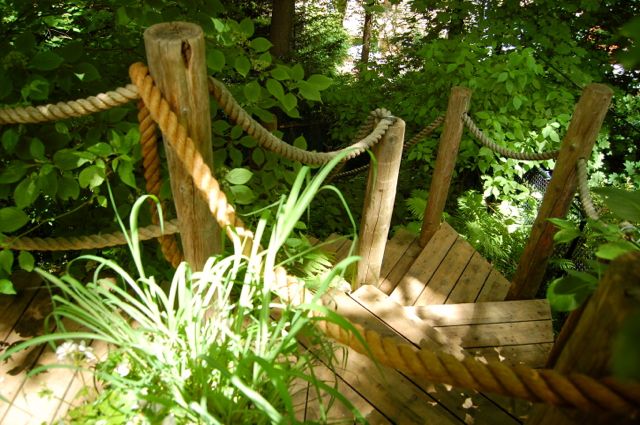 Now, look down. Look waaaaaaaay down. (Friendly Giant fans will get this reference.)
Down in the valley is the Swiss Family Robinson "treehouse". Would you have thought of making it a deck, with railings?
Wasn't that a great way to solve the problem of a steeply sloped lot? Do you have a garden problem you can turn upside-down to brainstorm solutions with? Give it a try.