What is a native plant? We weighed in on this complex discussion – or argument – in 2011. Let's just say that the four lesser-known flowering shrubs in this Friday's Idea File are native to North America.
All are hardy in Toronto's Zone 5-6 (USDA Zone 4-5) climate. All but one of the photos were taken in the city. For consistent comparison, however, the links in the captions take you to their listings in the excellent Missouri Botanical Garden plant database. Canadians, shift zone ratings down by one.
When is a tree a shrub? As shrubs tend to be shorter and multi-stemmed, my exec decision is to call these shrubs – but if you prefer to say small, multi-stemmed trees, I'm okay with that. The last two in this group do tend to be spreaders.
Feel free to add your own suggestions. As always, we welcome them.
Carolina allspice (Calycanthus floridus) growing in a Rosedale garden. The epithet "floridus" simply means "flowering"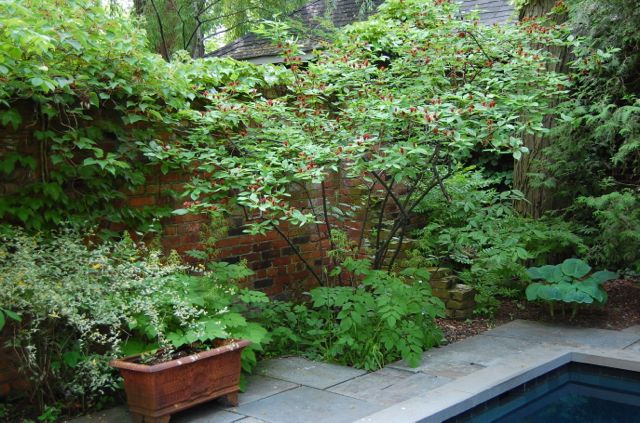 Shrub or small multistemmed tree? Either way, this Carolina allspice will fill the small courtyard with fragrance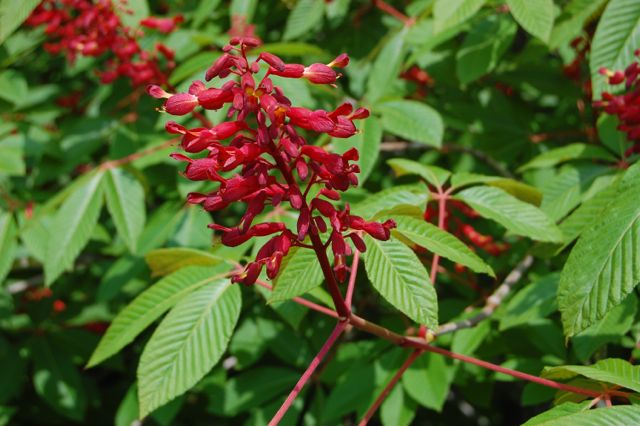 This was taken in Asheville, NC. Nevertheless, red buckeye (Aesculus pavia) is hardy to Canadian Z5. As you might guess from its spiky flower, it's a shrubby relative of the horse chestnut.