Having survived late dumps of snow and ice pellets, the spring planters are growing a great crop of Optimism
It's Garden Bloggers Bloom Day – or it was yesterday – when every 15th of every month, Carol of May Dreams Gardens invites gardeners around the world to show what's growing their way.
If you were to pass by my garden right now, you might think that not much is growing at all. The late spring of 2013 has us weeks behind last year, and generally behind whatever "normal" is right now.
But, on closer inspection, you might be surprised at what's there. Here a few things – maybe they're growing in your garden, too. Have a wander and wonder.
With nodding flowers and a great swath of freckles, my unknown Ashwood hybrid Helleborus is growing with Jubilation.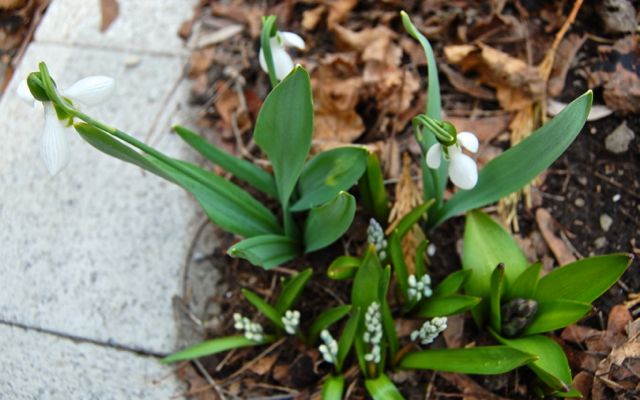 I see Teamwork and Continuity in this clump of snowdrops (Galanthus), striped squill (Pushkinia) and Hyacinthus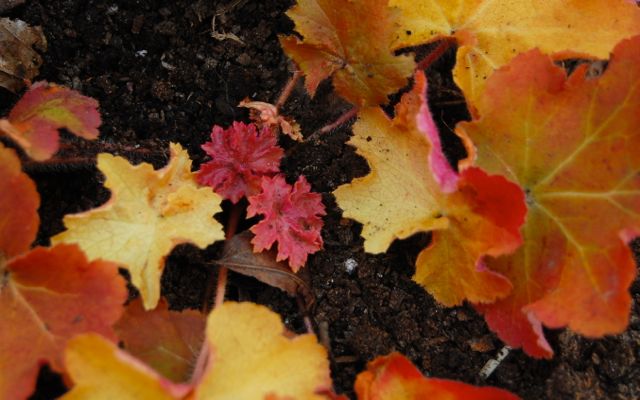 Already leafy and luscious, Heuchera 'Caramel' is clearly pumped up with Enthusiam
Peeping out from around the stones, Ranunculus 'Brazen Hussy' lives up to her name, showing pure Tenacity
Making whoopee with an early-to-rise bee, the Crocuses spread a little home-grown Love.
What's growing on in your garden? We'd love to hear. Or head to May Dreams to see, show and tell.