The florists' display was a standout at Canada Blooms. This, by Quince Flowers attracted photographers like bees to nectar.
As a daydreamy ten-year-old, I was often late for school. Taking our long walk through fields of wild weeds, time disappeared as I carefully arranged a bouquet of ox-eye daisies and Queen Anne's lace, and learned how tough chicory stems could be. Arriving at school, I'd be surprised to find the yard empty and everyone seated when I opened the door to class. With a stunned look – and no prior intent – I'd hold out my bouquet to the teacher. Oh, I how wanted to keep them!
The long way around to saying: I love flowers, floral design and, hey, I once even won a red ribbon using weeds in a design. For me, the floral component at Canada Blooms can steal the show.
Today is the changeover day for many of the flowers at the ten-day Canada Blooms. So it might be your last chance to see some of these examples of the ephemeral art. Tonight, the elves will be busy, swapping out faded bulbs in the gardens, and creating new art for the floral competitions. So get in there today to see flowery art like this before it goes poof!, or visit tomorrow for a whole new vision.
It's all about the armatures or floral frames these days. EcoStems' Joseph DeLarge and Helena Beslic arranging the "before".
And a closeup of the "after" by Ecostems – which prides itself on its environmental sustainability.
Martin's Flowers puts the finishing touches on their gorgeous tree construction.
You'd never guess what creativity they are capable of from their website.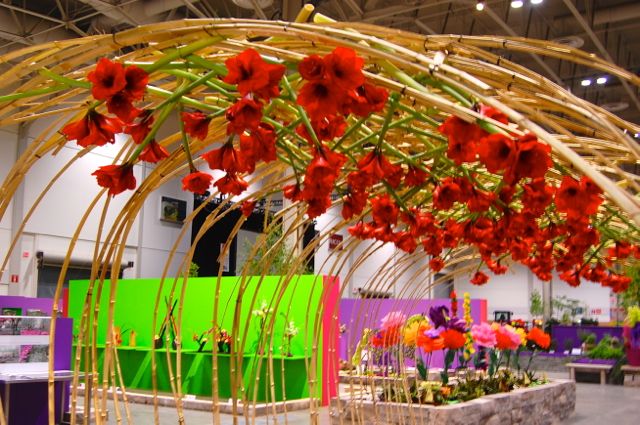 The entry or exit to the Garden Club of Toronto Floral Hall is a magical bevy of upside-down amaryllis. The hollow stems are filled with water. I believe this was created by Stems Florals. [Update: No, it's by Bruno Duarte of Fresh]
Inside the Garden Club Area, you'll find entries by members of the Club, open categories with competitors from garden clubs around the city, and international competitions like this one. It all changes tonight, for a fresh new show.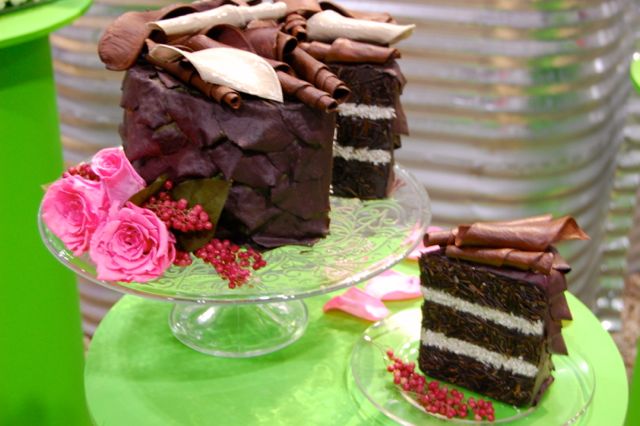 Floral designs range from the dramatic to the whimsical, such as this Devilish chocolate cake made from plant materials.
Or this row of niche art using natural materials to create "jewellery".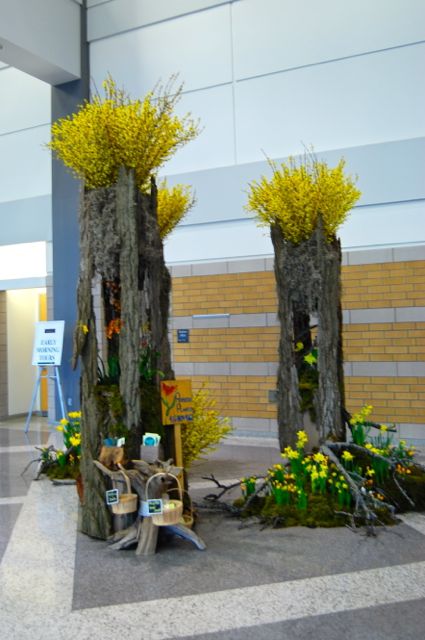 An installation by Perfectly Planted Botanical Designs marks the entrance to the early morning tour room. I'd like to see more of this kind of thing infiltrating the hallway at the Direct Energy Building. Remember how it used to be?
Closing with a closeup from Quince – a cup to catch any sunshine that might happen by. Oh, how I want to keep them.