Vegetable gardening books are on the menu for this week's Idea File
You've come to the right place if you want a good how-to book on growing vegetables. And as yesterday was International Women's Day, and as this week a friend shared with me these dismaying statistics about the dearth of women authors, I thought this Friday's Idea File should grow through the green ceiling a little and focus on three great books by three great gardeners, all women.
If I knew a third as much about vegetable gardening as any of these three, I'd be a very happy girl with a lot of delicious vegetables. The three together offer a nice 1-2-3 progression for anyone wanting to become better at growing vegetables.
Sonia Day's bestselling Incredible Edibles is an award-winner, too
The first is Incredible Edibles by Sonia Day – subtitled 43 Fun Things to Grow in the City. Sonia writes with a chatty, readable style, and is no-nonsense when it comes to vegetables. That makes her book a good choice for beginners who want a quick and easy guide to help them get growing.
The book begins with her 10 commandments for urban vegetable gardeners. She then covers 43 easy-to-grow vegetables and herbs that push the envelope to make your vegetable gardening efforts more satisfying – including hard-to-find in the produce section choices such as asparagus peas, epazote or Vietnamese cilantro along with the beans and carrots.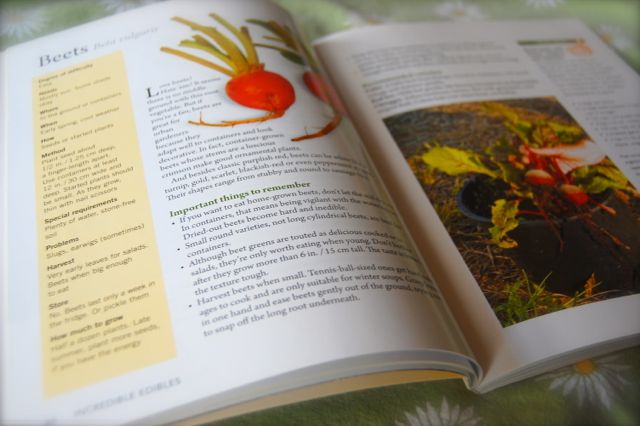 In a typical inside spread on beets, Day makes the essentials easy to reference. There's even a beet recipe.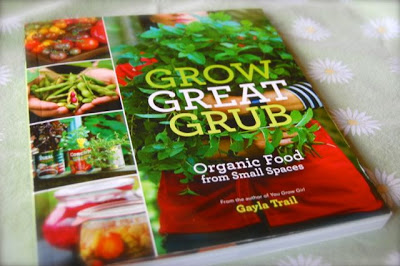 Gayla Trail makes gardening cool
I've reviewed the next book, by You Grow Girl Gayla Trail, before (read it here), but it's worth a second plug. Grow Great Grub places the emphasis on small spaces, such as growing veggies in pots. With Trail's help, even land-starved urbanites can garden.
For a stressed-out rank beginner, the volume of info might seem a bit overwhelming at times. But any beginner who's keen and hungers for facts would find everything they need – plus plenty more to refer back to as they gain  experience. And experienced gardeners will find a fine level of detail such as which of the weeds you weed actually make good eating, or which plastics are safe vs unsafe to recycle as containers. The recipes and crafts that readers have come to expect on You Grow Girl are sprinkled throughout. It's all in the encouraging, you-grow-girl voice that has earned Trail a wide following as a blogger, speaker and author.
The spread on root veggies, including beets, shows a few of the many inspiring photographs by Trail throughout her book
The book was awarded the American Horticultural Society's 2012 Book Award
The third book, The Year-Round Vegetable Gardener by Nova Scotia garden writer and radio host Niki Jabbour, is about (surprise!) growing vegetables year round. That doesn't only mean growing through winter, but also how-tos for getting more crops out of your garden space from spring through fall.
Although a beginner could start with this book, I feel that it's more for the person who has mastered the basics and wants to take their vegetable patch to the next level. Jabbour covers the full range of vegetables and herbs, with instructions for everything from garden layout and planting plans to construction of poly tunnels and cold frames. No recipes, though, except for things like compost.
If you'll be at Canada Blooms 2013, be sure to hear Niki speak on the topic next Friday at 2 pm. [Update: in 2016, this link is no longer active]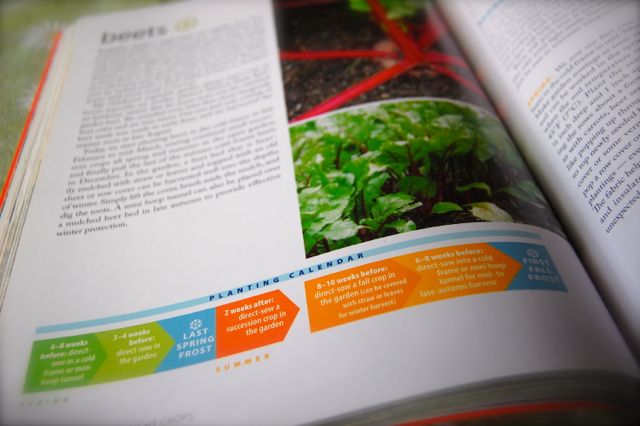 This first of two spreads on beets shows the handy planting calendar for a succession of crops given for every vegetable.
[Update: For those who keep score, I should state that I bought Incredible Edibles and Grow Great Grub myself (though I did win a second copy of the latter, which I gave to my #1 Dot), and I received a review copy of The Year-Round Vegetable Gardener. The opinions, however, are always my own.]