Hyacinthus orientalis 'Delft Blue' – the camera turns it more purple than the soft blue of real life
So glad I didn't plant hyacinths last fall – or, rather, so glad I didn't plant all of them. I held back six extra-fragrant 'Delft Blue' hyacinths from Botanus to try forcing. And now, when you step through our front door, you're embraced and enfolded by the magical spring perfume of hyacinths.
We must, must, must do this every year! It's so easy. To simulate winter's necessary chill, the six were popped into the top shelf of my fridge, bag and all, once their brothers and sisters had been planted outside in October. I admit to laziness in this; some would have potted them up right away.
I got round to that just after New Year, intrigued by a product called SumiSoil on the Lee Valley Tools website. Lee Valley had a free shipping promo for orders over a certain dollar value, and a bag of SumiSoil brought my total to just the right amount. Hmmm. Might be good for forcing, I thought.
So I did a little test, using two of my vintage Beauceware containers – one with SumiSoil (the single bag filled one container) and one with a soilless potting mixture. SumiSoil is made of terra cotta ceramic-coated beads that encase charcoal, a combination that makes it moisture retentive and sweet [Ed: Sorry for the imprecision: I meant, charcoal keeps the water sweet ie. bacteria/fungus-free].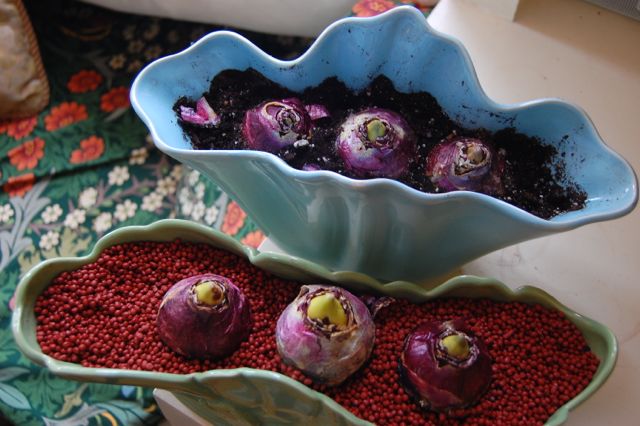 The bulbs in the SumiSoil below, and potting mix, above. Don't you love these containers?
The containers sat side by side on the same middle shelf in the fridge for another six weeks. I checked both for moisture regularly, and watered as necessary. (Using the upper/middle shelves kept the bulbs away from ethylene gas produced by apples in the crisper drawer, which which might cause the bulbs not to flower.) When removed at the end of February, the bulbs in the SumiSoil seemed a little further along – though mine is a very small sample size.
The green container stayed out of the fridge, placed in a bright, north window to develop, with the pot rotated every few days to keep the new growth straight. Once the flowers in the green pot began to open, the blue one came out of the cold. Now I have hyacinths to feed my soul (and nose) for weeks.