My first pair of Ethel gloves held up well, though no longer quite as clean
I'm picky about garden gloves, when I do wear them. Usually, I've bought the Grip Gloves, a coated knit glove by Canadian glovemaker Watson Gloves, from Lee Valley Tools, Canadian Tire or, lately, from Mark's Work Wearhouse. Cheap and cheerful, at less than $10 a pair.
But back in 2010, a swag bag from the Garden Writers' Symposium in Dallas included a pair of Jubilee Ethel Gloves. As I'd read raves from folks who love their Ethels, I gave them a try. Three years later, Ethels are still my go-to garden gloves.
Ethel was our maternal grandmother's name. "Effie" was a huge gardening influence on Sarah and I, so it's fun to sport her name around the garden.
Besides that, I like a few things about Ethels. First, are the reinforced fingertips. With weeding, pinching and poking holes, my middle and index fingers tend to pierce coated gloves by the end of a season. That means disposing of a pair a year; two, if I'm lucky. So far, the Ethel gloves have not given me the finger(s). The synthetic suede is enough without being thick and unwieldy. That increases the likelihood that I'll actually keep the gloves on my hands. Which is a plus, for gloves.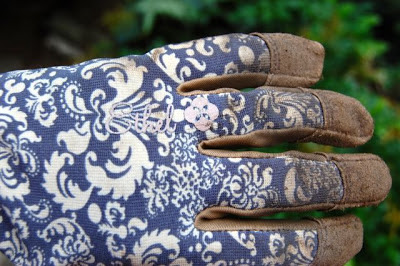 The breathable fabric is light and not too hot for summer work
The same material reinforcing the palms offers protection for medium-weight garden chores. I've also washed my gloves (perhaps not as often as I should), and the leather portion now molds to the shape of my hand. These will get me through another year, at least. Not bad for durability.
For roses and other thorny work, I wear long-sleeve, synthetic leather West County rose gloves snapped up two years ago at a ridiculously low sale price at the Toronto Botanical Garden. They're still going strong, albeit without day-in-day-out use. Wish I'd bought two pairs while I had the chance.
For other ideas, check out Sarah's post on her garden glove preferences from back in 2009. Then tell us about your favourite garden gloves. Or whether you prefer to go au naturelle.