Leucothoe fontanesiana 'Rainbow' – 'Rainbow' drooping fetterbush or dog hobble
Variegated foliage is my weakness. But, I have to be careful. A garden full of typical green-and-white "interesting"  foliage can be too much of a good thing. But these two shrubs – both seen growing in Toronto – can introduce a kiss of pink into your foliage palette. How appropriate for Valentine week!
Leucothoe fontanesiana 'Rainbow' is a relatively unfussy evergreen shrub – unfussy, that is, as long as you can meet its picky cultural requirements. It's a cultivar of a native North American shrub that grows naturally in forested areas along riverbanks. So: shady but with good air circulation, moist but well-drained, and with acidic soil containing lots of organic matter. That's all. If you can give it that, this cousin of heaths and heathers will reward you with pink-tinged, cream-and-green leaves and dangly, white, bell-shaped summer flowers. I found it listed online at Glen Echo Nurseries in Caledon, so it can be had locally, but other nurseries in the Toronto area might also carry it.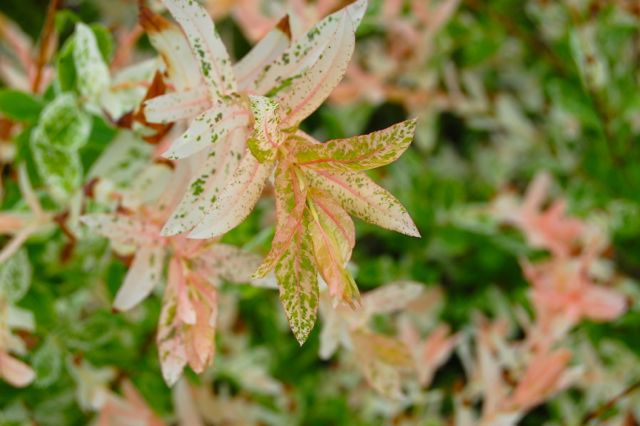 Salix integra 'Hakuro-nishiki' – Japanese dappled willow
Japanese dappled willow (Salix integra 'Hakuro-nishiki'), on the other hand, is about as unfussy as they come. Maybe even too unfussy. Like all willows, it likes water. But this one will take some dryness once established. (You can see a little die-back at the leaf tips in the image above, likely due to the heat of recent summers.) Best in sun or part-shade, it can grow into a sizeable shrub, without regular pruning.
Luckily, the pink is best on new growth, so hard pruning in early spring and a couple of lops during summer will encourage the best leaf colour. An improved cultivar, with more reliable pink, is S. integra 'Flamingo', which I also found on the Glen Echo site. (I have no affiliation with them.)
Google coughs up some neat links. One took me to Lene Rasmussen's Willows website in Wainfleet, Ontario. She sells dappled willow, among others, as whips, with instructions to make woven willow trees. These look pretty cool. Click their Workshops page for upcoming classes. Wish it were closer. Even without the fancy trunkwork, dappled willow can be grown as a standard or tree.
Have you grown either of these babies? I'd love to hear your tips or comments.