The headquarters of Manulife Financial on Bloor Street East
If you've walked or driven along that windy strip of Bloor Street, east of Church, you've seen the velvety carpet of green in the gated surrounds of the Manulife Financial headquarters. It's often called the best lawn in the city, and there's a reason. It's creeping bentgrass, the high-maintenance stuff reserved for golf greens.
Unlike the bentgrass patches that sometimes appear in a sunny, suburban lawn (and almost as quickly disappear in a huff during hot, dry weather), this has been here for a long time. Since 1925.
In his book Manulife, business writer Rod McQueen gives us a horticultural side trip, describing how, when the headquarters was built in the '20s, the groundskeeper trekked out to the Scarborough Golf and Country Club for "Penncross creeping bentgrass sod." (In this Canadian Business article, [Update: in 2016, this link is no longer active] the Manulife archivist remembers it slightly differently.) Apparently, those first rolls… crept.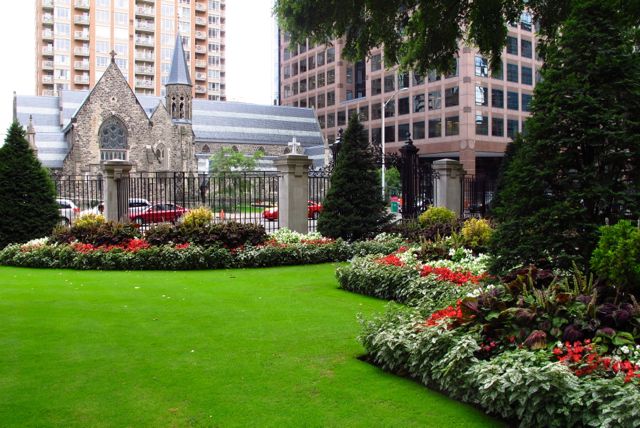 The Manulife lawn and gardens in September. St. Paul's Anglican Church across the street.
You don't want creeping bentgrass  in your own lawn, unless you're willing to be a slave to it. (Ed: Its soft leaves and shallow-rooted "creepiness" is what makes it so susceptible to drought and heat, and cold, for that matter.) The
front lawns at the Manufacturer's Life building now cover 26,000 square feet, all crisply edged, as you can
see at the base of the cast iron fencing when you walk along Bloor.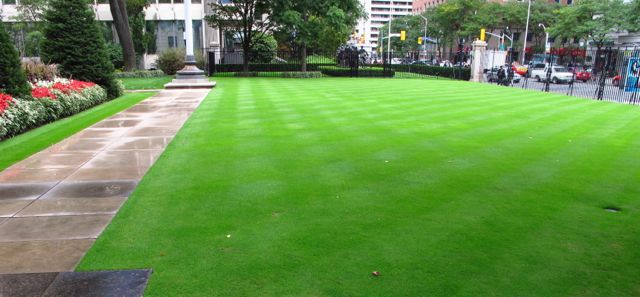 Twice-weekly cutting keeps it short, mowed in a criss-cross hatchwork.
Whether you "believe" in lawns or not, you have to admire the longevity of this one. It's a pretty patch of green in the otherwise grey alley of Bloor Street East. But I don't even want to think how it remains weed-free. Nothing appears on the Manulife website. Perhaps someone can fill me in?
Community by Kirk Newman occupies the southeast corner of the grounds
Outside the fence, but with its own skirt of lawn, is this massive sculpture by American artist Kirk Newman. Click the link to see how this sculpture transitioned from sketch to bronze.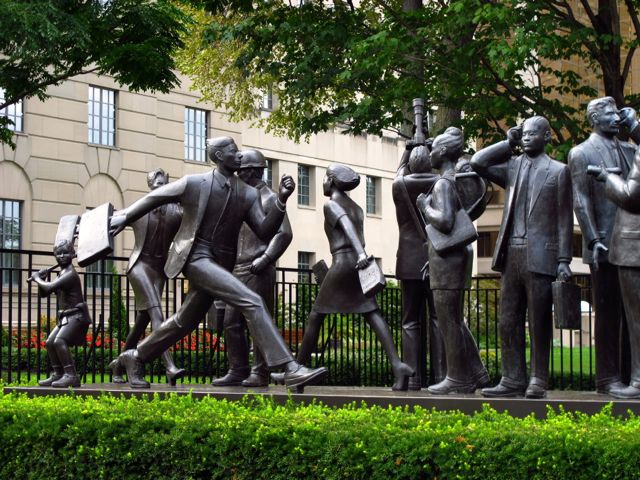 With 21 figures to choose from, we're bound to have a favourite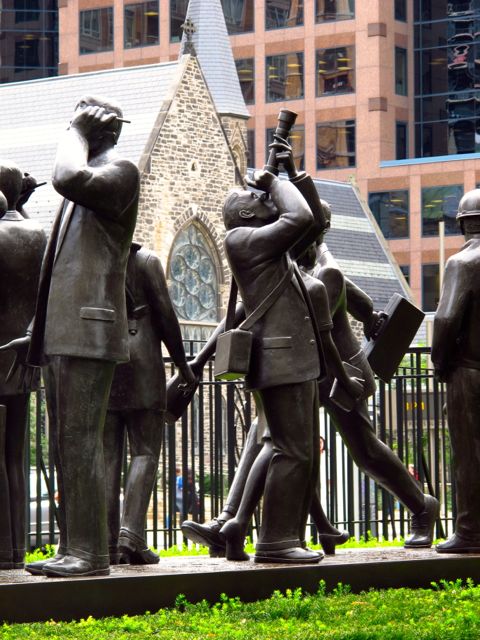 Mine will always be the guy with the camera.