Avert your eyes from all the white stuff outside. Let's you and I have a cozy sit, and think about gardens – and how pleasant to do so on a well-placed garden bench, the subject of this Friday Idea File. A bench in the shade (or sun, depending on your mood) is just the spot to percolate the ideas you've gathered walking around a garden. So grab a reviving beverage and join me.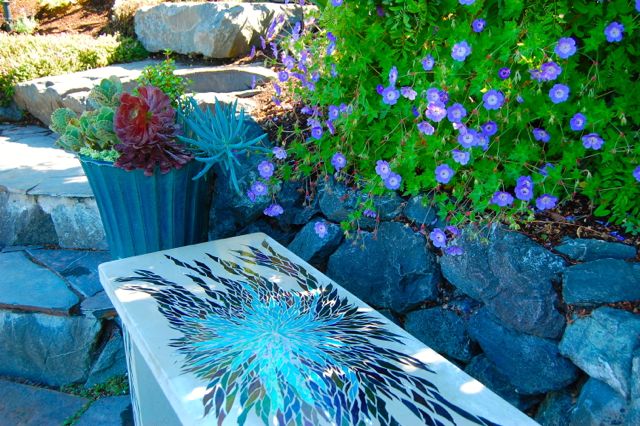 Why settle for simple stone, if you can have one inlaid with a pearlised flower to match your 'Rozanne' Geranium?
The inlaid concrete bench above, by California's Hidden Spring Designs, was spotted in the garden of Christopher and Michelle Epping in Seattle. Sit here for a spell, and imagine a fabulous hilltop view.
Besides being places to veg, converse or dream, benches – especially bookended by planters – make attractive garden features in themselves. They're (relatively) inexpensive, functional garden art.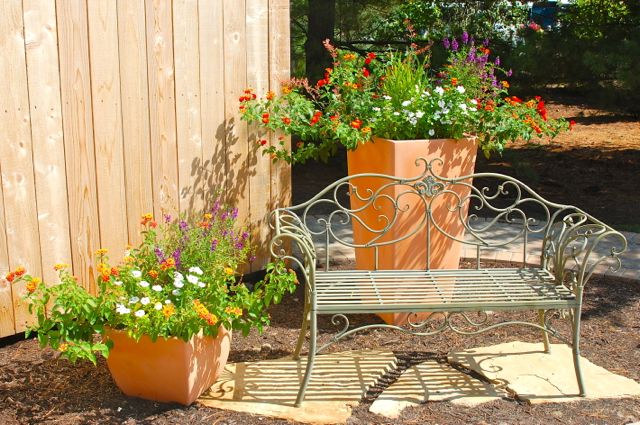 Or, on a more intimate scale
Every garden needs a place to stop and rest, even if simply a flat stone or stump. How about yours?
A formal mini-terrace overlooks Toronto's bluffs. Sit here, and forget about the vast lawns that need clipping behind you.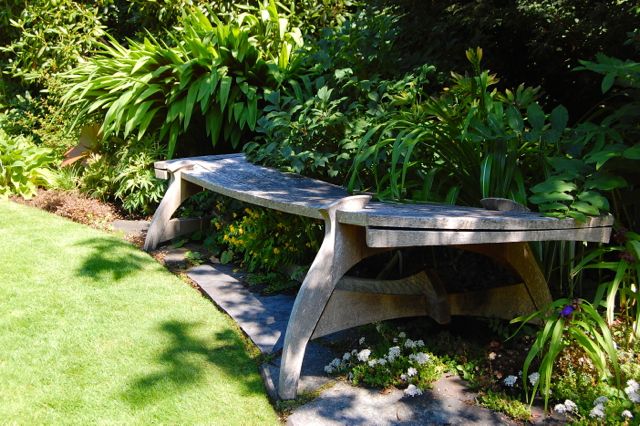 The bench here reflects Asian flavour of the Abkhazi Garden in Victoria, BC,
Couldn't find the source of the log bench above – contact me if you do. But, if reclaimed wood claims a place in your heart, Toronto is home to great makers like Stroudfoot and Urban Tree Salvage.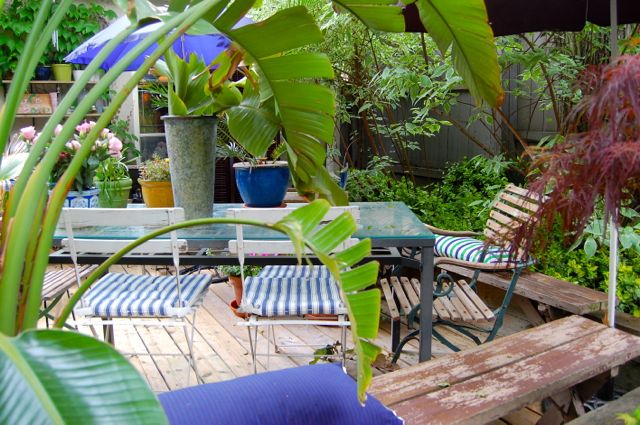 I call the Beaches garden in this shot "bistro, bananas and benches"
Adding a bench or few makes for highly social seating, where it's easy to squeeze in another guest. The Toronto garden above is the perfect party central. The slender form of the bistro chairs and the glass-topped table ensure the space feels uncongested, even when packed with people! Pass the vino.
The simplicity of the white bench above is respite for the eye as well as the bones. After you're done with shovelling the walk (again!), take a seat and dream. For more, more, more garden bench ideas, check out this album on our Toronto Gardens Facebook page. Then tell us your garden bench stories.