The Rock Garden at Whistling Gardens
What's going on in your winter garden – anything? With Toronto's long, dreary winters, you'd expect us to pay more attention to the winter months. Yet, bedazzled by leaves and flowers, winter is often the last thing we think about.
In 2012, Whistling Gardens near Brantford opened to give us a new botanical garden focused on conifers – the winter garden's best friend – including rare and unusual finds.
Want conifers? A short drive from Toronto, owners Darren and Wanda Heimbecker have assembled one of the largest collections in the world, well over 2,000 different kinds, covering 18 acres of their 56-acre site. With a garden centre, too, Whistling Gardens is an inspiring conifer "show and sell."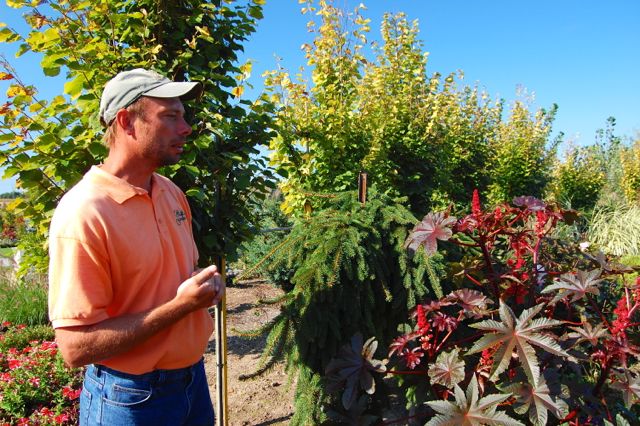 Whistling Gardens is the fruition of founder Darren Heimbecker's 30-year passion for special plants
Big, tiny, pointy, prostrate; the grounds are filled with inspiration and information. On my visit, most plants were neatly labelled, and I understand that Heimbecker's goal is to label them all.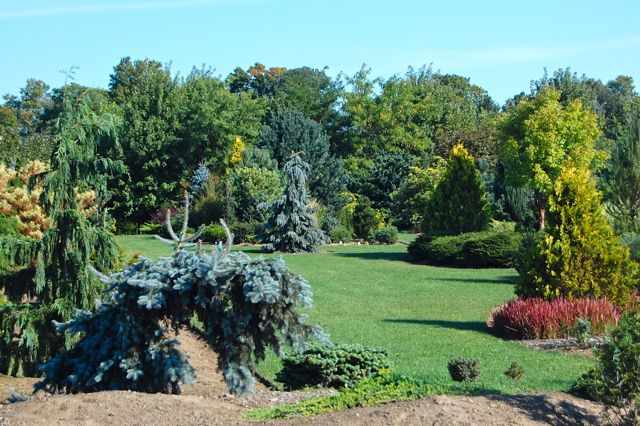 This is a young garden; only planted about five years ago. I look forward to seeing it mature.
Heimbecker is to be commended for his passion and commitment. He is building an incredible resource for garden design – especially winterscaping. The shame is that, at least this year, the gardens closed in October, well in advance of the snow. I hope he'll offer some winter viewing days.
His garden centre is well-stocked. (There's also an online catalog with useful plant details.) Even at the end of season on my September visit, it had tempting buys. Yes, I was tempted. And I bought. Next time, I'll be less impulsive, though. The pair of poor Chamaecyparis 'Sparkles' I snapped up on the bargain table sat in their pots for a couple of months till I figured out their new home.
Trails meander through the beds, giving you close-up views of the conifer collection
Thanks to Kathy Purdy of the blog Cold Climate Gardening for introducing me to The Prairie Winterscape: Creative Gardening for the Forgotten Season by Barbara Kam and Nora Bryan. (Kathy's review here.) While prairies are the focus of this book, the winter design principles and many of the plant profiles are apt here at home. Unfortunately, the list of coniferous plants covers only eight of its 180+ pages – conifers being somewhat vulnerable to drying prairie winds. Whistling Gardens fills a big gap. Their online catalog list for evergreens alone covers 54 manuscript pages (no pictures, but brief descriptions), most plants rated hardy for Zones 3 to 5 and available for mail order.
My September visit was too short – a quick 45-minute stop on a garden club bus tour, with a wedding party due to arrive on our heels. I wanted more time to get to explore the unusual species, not all of which are evergreens. Heimbecker isn't afraid to take risks with planting either; you gotta admire that.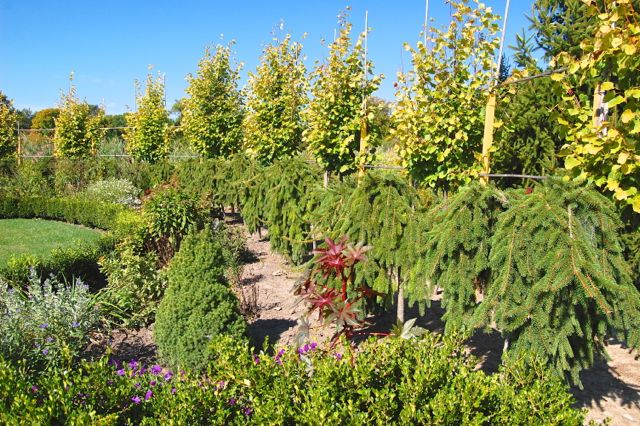 Heimbecker experiments freely with uses for coniferous material, like his curved hedge of weeping spruce
Among the deciduous plants is this variegated Forsythia 'Kumson', looking cool even after the flowers fall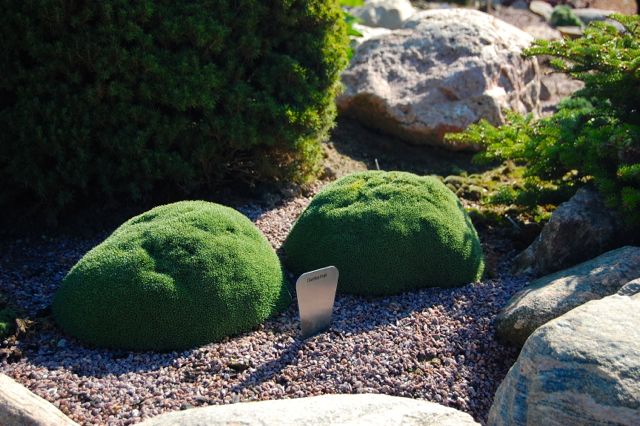 These little mounds in the rock garden are the mossy leaves of Dianthus freyii, which will pink up with flowers in May.
The Temple Garden is one of eight different garden settings, and already a draw for weddings
In truth, the built portions of the garden impressed me less – an ornate pavilion, the Temple Garden (above), and a massive fountain modelled to scale on one in Versailles. This is Heimbecker's pet project, which he is expanding significantly in 2013. The fountain is a "dancing waters" show choreographed to Heimbecker's music – in his other life, he's a composer. But all these elements can only improve with time as the gardens mature.
For myself, I'll be prowling through the 2013 online catalog, aiming to build up my conifer content. And I'll be hoping for a longer repeat visit. How about you? Do you have enough evergreenery?