My Hoya carnosa or wax plant is pushing the Big 3-0
Like the Brave Little Tailor in the fairytale, I should wear a sash reading, Helen the Houseplant Killer. It's my specialty, particularly in creative ways.
Most houseplant killers do it with too much love – by over-watering. My poison, on t'other hand, is neglect. I forget them. If you share my murderous tendencies, any houseplant that passes the Helen test is one worth knowing.
My first all-star is Hoya carnosa – the same one mishandled so egregiously in 2009 is still ticking.
While mine never flowers – it likely needs more indoor light than it receives – it remains an attractive foliage plant with glossy, speckled leaves. The key to its success at my house: I can forget to water it. And often do. It also enjoys an annual summer vacation outdoors. This year, I bent a wire coat hanger into an O and trained the trailing stems around it. Perhaps it will bloom for me… one day. [UPDATE: Reader, it did.]
Sansevieria trifasciata, also known as snake plant or mother-in-law's tongue
A year ago, my nephew gifted me my next all-star, Sansevieria, on my wanted-list due to its reputed indestructibility. So far, it has lived; and lived up to its billing. It's also a "clean air plant," said to remove air-borne toxins.
The handsome, strappy leaves (albeit, like most things at my house, a little a lot dusty) are patterned like snakeskin and sharp like a mother-in-law's tongue – my own mother-in-law's excluded – hence the common names.
My son has a Sansevieria cylindrica, an unusual form with cool, tubular leaves. It passed the trauma test when it was accidentally packed up and left in storage between moves for five months – emerging virtually unscathed. Clearly, in all senses, a keeper.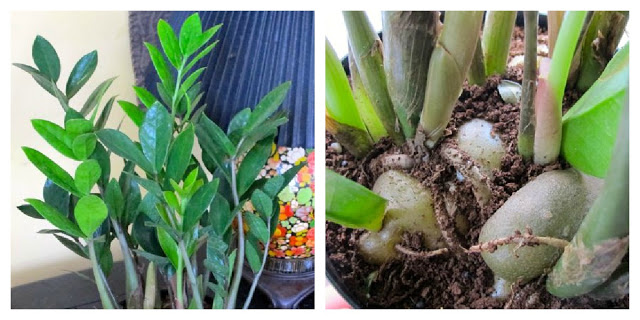 Zeezee plant's attractive leaves (left) and its fleshy, water-retaining roots (right)
My latest acquisition is Zamioculcas zamiifolia also known as zeezee or ZZ plant, which one expert calls "nearly bullet-proof." The test will be how Helen-proof it is over the (hopefully) long term. I admired it first for its distinctive, shiny leaves and was thrilled to learn that it is so easy-care. At Plant World's Boxing Day sale this year, Sarah nabbed me one for 30% off. What luck!
Aeschynanthus marmoratus is a form of lipstick plant also called zebra basket vine for its mottled leaves
Having passed the one-year test, the Aeschynanth or zebra basket vine deserves a place on the list. This unfussy member of the huge Gesneriad or African violet family is satisfied during winters with only occasional watering and a perch in my bright northwest window. It makes tiny but interesting tube-shaped flowers, even for me. Summertime, during active growth when I'm more reliable with a watering can, it will be moved to a spot in bright shade outdoors.
Mine came from cuttings which rooted easily in water, and I've satisfied its need for well-aerated roots by mixing potting soil with the wood chips from an orchid – admittedly, an orchid I'd killed.
Phalaenopsis or moth orchids are (usually) amongst the easiest orchids for beginners
The baby-step orchid is the moth orchid or Phalaenopsis. That being said, I did kill my first one by looking at its cheap-looking, clear plastic pot and thinking, No, that can't be right.
Well, yes, actually, it is. That pot lets air in, excess water out, and allows you to see if the roots are green and firm (as they should be) not black and mushy (as they should not). Hide it inside a porous sleeve such as terracotta, if you want, but make sure the roots never sit in standing water.
I repotted my first orchid. Disastrously. But after a primer from fellow Toronto Master Gardener and orchid queen Tena van Andel, I've managed to keep Moth #2 above blooming since my birthday at the end of September. Three months! Find the Toronto Master Gardener tip-sheet for orchids here.
Nephrolepsis obliterata 'Kimberly Queen'
If you like showy ferns, I've found one that adapts to over-heated Canadian homes in winter, 'Kimberly Queen' Australian sword fern (Nephrolepsis obliterata).
Often sold as a summer container plant, it has a more upright habit than its fussier look-alike cousin Boston fern (N. exaltata), and will take summer sun.
But I learned how well KQ grew indoors a couple of years ago, when I hauled an entire urn of it inside one fall to avoid a frost, and simply left it there. It was watered when I remembered, and shed remarkably few fronds. It went back outside in spring and soon rebounded.
Next autumn, I repeated the process – in fact, it was our "Christmas fern" for lack of an indoor Xmas tree last year.
This summer, I added a second KQ (at right), and divided the first at the end of the summer, again in its outdoor pot.
While a little more lank than if grown in ideal conditions, it still looks perky after three months indoors, even with underwatering in dry, hot air and relatively low light.
The secret might be having a large, non-porous pot to hold moisture in the root zone. Still, this is a fern that has weathered Her-icane Helen, so good on her. And it's a "clean-air plant" to boot. Queenly!
What are your favourite unkillable houseplants?