Hatley Castle, just west of Victoria, British Columbia
---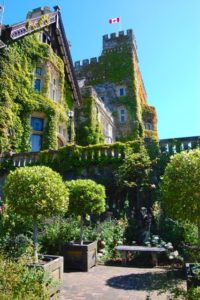 It's hard to know where to begin with Hatley Castle. Not only is it a lavish, historic mansion and gardens, one of Canada's castles, it's connected to stories that would make a great miniseries or few, as dramatic as Downton Abbey.
Hatley was designed in 1908 by Canadian-born artist and self-taught architect Samuel Maclure – his biggest project at the time. Maclure won the commission, not by wining and dining the patron, as his competition did. He quietly walked over with watercolours of his vision. Within hours, Maclure had the job, and it was the making of him.
He went on to be a highly influential architect, especially on the West Coast, for the Arts and Crafts-style residences that are now a vernacular for classic Victoria, BC, homes. He also contributed to landscape design, helping the Butcharts create their famous garden, for example.
The fun part of Maclure's story, though, involves his elopement. The family of his beloved Daisy Simpson opposed the match; Maclure was thought to be too poor and ten years too old. So Daisy escaped to the ferry to meet him, disguised as an old woman, complete with painted-on wrinkles and cane. She was so good that her own brother walked right past her… and Samuel and Daisy lived quite happily ever after; a true love match. And theirs is only one story.
Hatley Castle's classical, walled Italian Garden
Without the patron there would have been no Hatley Castle. In this case, he was British Columbia's wealthiest man, the coal baron, industrialist and politician James Dunsmuir, who spared no expense in the creation of Hatley Castle and Hatley Park.
James was the powerful son of a powerful self-made man, Robert Dunsmuir. The Dunsmuir saga (the Kindle edition of Terry Reksten's 1994 book of that title looks interesting) rolls from immigrant beginnings, through ruthless business acumen (father and son each grew to be the richest men of their times) and operatic family battles, to end with James's children squandering the family fortune in an alcoholic haze. Both Dunsmuirs leave a castle as symbols of their former might. Robert's was Victoria's Craigdarroch, which James aimed to out-do in every respect – and, I think, succeeded.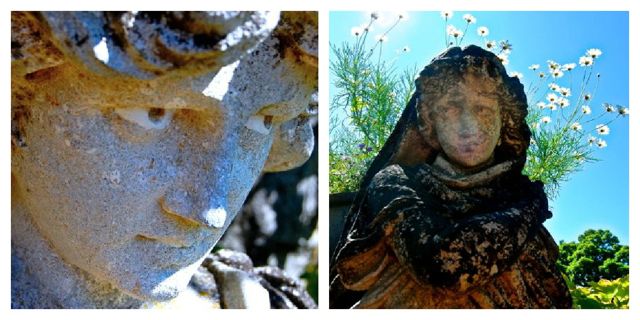 Two of the Four Seasons figures in the Hatley Castle Italian Garden
Now, at last, the gardens. In 1912, Dunsmuir hired Boston landscape architects Brett & Hall to design the gardens of Hatley Park's 700-acre grounds. Not much is remembered about Brett & Hall, but in their day they were prominent and left important contributions to Canada's landscape.
Both had Olmsted connections; a pedigree linked to America's foremost landscape architect, the creator of Central Park. Hall graduated from Harvard's first landscape architecture program, created by Frederick Law Olmsted, Jr. And Brett had worked several years in the Olmsteds' Brookline, MA, office. They met while working for Charles Adam Platt, and the imprint of Platt's popular 1894 book Italian Gardens is likely seen in Brett & Hall's design for the Italian Garden at Hatley Park.
Hollyhocks and dinosaur kale in the Italian Garden. And the warm-climate tree poppy, Romneya coulteri
How does a relatively small Boston firm win a huge project so far from home? Early in their partnership, Brett & Hall had been commissioned to create the "garden city" plans for the Grand Trunk Railway's Pacific terminus at Prince Rupert, BC, (and, later, for Prince George) – because the president of the Railway was Hall's brand new father-in-law Charles Melville Hays. The plans were hailed as innovative, and the 1909 auction for the 2,400 home sites in Prince Rupert made news worldwide. With his rail connections, Dunsmuir would certainly have heard of Brett & Hall.
The unfortunate sidebar to this story: Hays went down with the Titanic in 1912.
Without his driving force, Prince Rupert never became the rival to Vancouver or Seattle that Hays had dreamed of.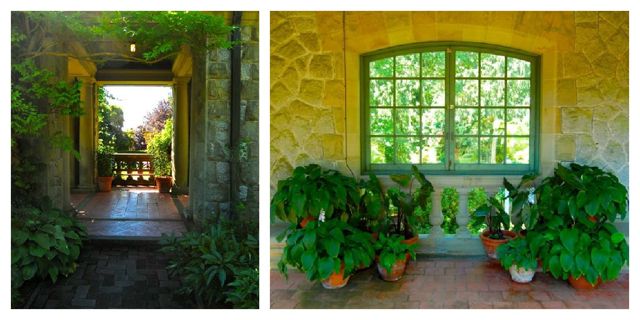 The Teahouse in the centre of the Italian Garden pergola
Like Toronto's castle Casa Loma, which has a dramatic history of its own, Hatley Castle is no longer a residence. From 1940 to 1994, it served as a naval training centre, then a military college. (It's right on the Strait of Juan de Fuca; even the parking lot has a picturesque view of water and mountains.) In 1995, it became Royal Roads University.
The grounds of Hatley Park, however, are open to the public, and a small museum shows some of the vestiges of the high life as a Dunsmuir. The Italian Garden is but one of the impressive garden spaces. There's also the Brett & Hall Rose Garden, which we didn't see, and a Japanese Garden I took many pictures of, which was created in about 1907-9 by the pioneer of Japanese gardens in Canada, Isaburo Kishida, and later elaborated on by Brett & Hall. Kishida's other work in this country includes the Japanese garden for Jenny Butchart.
And now, if you're still reading this far, I'll let a few more pictures tell their story.
Steps lead from the Italian Garden to the Croquet Lawn
In late summer, the lawn was humming with hummingbirds in the Crocosmia. We missed out on the Rose Garden beyond.
The formal design of the Italian Garden is capped by a curved pergola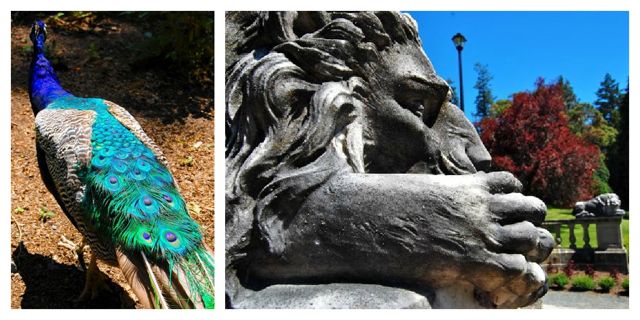 Wildlife at Hatley Park is plentiful and varied, including these impressive creatures
Of course, the grounds include a shady spot for waiting, which Mr TG has learned to do most graciously across the years