Have a dead tree? Turn it into a garden feature. Christoper D.Mello's garden, Asheville NC
You'll be surprised how just a little paint can spruce things up and make your garden pop. That's idea one – applied here in a variety of ways.
This is the first of what I hope will be a weekly feature: Friday Idea File, a collection of ideas for your garden. My inspiration is garden designer Susan Cohan's Year of Mondays posted weekly on her blog Miss Rumphius' Rules. This might be too ambitious. We'll see. It'll be complicated by the utter disappearance (poof!) of thousands of garden photos in a photo archive. Most of the lost shots are local, so until the good weather returns, you'll be seeing lots of ideas from far and wide.
Why be satisfied with weathered cedar. Paint your obelisks. Kate Farley's garden in Seattle WA
Kate Farley inspired me to paint my own obelisk purple. You can see the result here.
Okay, this one might be glazed, not painted. But epoxy paint is a quick way to transform any container.
See how a small painted detail can draw your eye through a garden? Majorelle Blue is a particularly striking colour in a garden. Remember the Blue Stick Garden? Here, it's on a bench in Yvonne Cunnington's former country garden.
Paint doesn't need to be vibrant. Look what you can do with stain and stencil! Robert Bellamy's garden, Dallas TX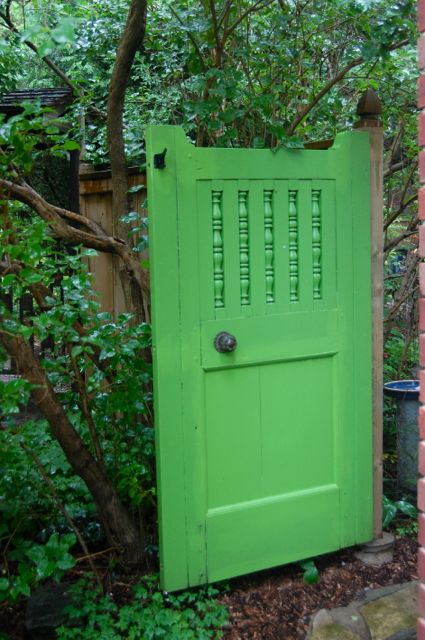 Paint a garden gate or front door to say, "This way, please." Beach Garden Tour, Toronto 2009