Who could resist the golden form of spike winterhazel (Corylopsis spicata) 'Aurea' also known as 'Gold Spring'?
Why do I always fall in love with the wrong guy? Look at those handsome leaves! All boldly goldy-chartreusy, with a blush on the newest. Then look below at the bright pink bud scales (that protect the leaf in the bud). And we're not even counting the pretty, pendant flowers that are fragrant. In winter!
Heart-shaped leaves with prominent veining are nicely spaced for admiration.
But here's the thing: I ain't got no cultcha! That is, I can't give this high-on-my-lust-list shrub the culture it requires: Mostly moist, slightly acidic, semi-shade. Shade, no problem. Acidity, I can probably deliver, as my garden soil – and I suspect most of Toronto's sandy bits – tends to be slightly sour. My former lawn used to get mossy, which is an acid indicator. But moist? Sobs. Not me.
I needn't give you detailed cultural info on Corylopsis spicata 'Aurea' because I found this terrific write-up by Louis the Plant Geek. (Great site! I'll be browsing around there later.) I do know that the species – which is larger, without the golden leaves – is available near Toronto at Lost Horizons, one of the Holy Grails of nurseries for local plant fanatics. One of them is blogger Barry Vanderveer, aka Teza, who includes the Corylopsis spicata species in his 100 must-haves. Good lust-list reading.
Here's how it looks in a garden. Note the golden glow in the bottom left corner of this North Carolina woodland.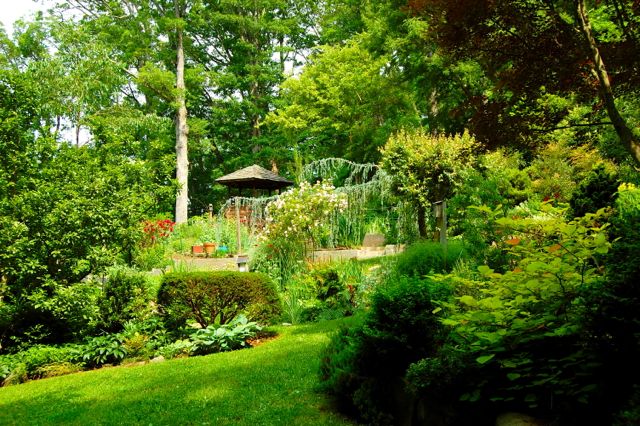 Same amazing garden viewed from the opposite direction; winterhazel at right, with its pink leaves lit up by the sun.
(I'll write more about the lovely hillside creation of Peter and Jasmin Gentling another time.)