Yvonne Cunnington's simplified Four Square Garden
It took many years and tons of tender devotion aka slog work for Yvonne Cunnington and her husband John to transform their large country property near Ancaster into a horticultural work of art. Now, to simplify life, they've left it all behind for a small, rental property – for now.
Sarah and I have posted about Yvonne's garden – notably here at the height of its glory. This June, we joined fellow garden writer Lorraine Flanigan for a farewell visit. Here is what we saw.
This peaceful glade near the house is home to a tapestry of shade dwellers, including hostas, hellebores, perennial foxglove (Digitalis grandiflora) and mats of Labrador violets (Viola labradorica) and lamium.
It's also home to wildlife like this cute little native grey tree frog (Hyla versicolour)
Looking towards the pond, you can appreciate Yvonne's skill with grasses, which are beginning to shape up here in early June. On the far right, a huge clump of giant fleece flower (Persicaria polymorpha) catches the sunlight.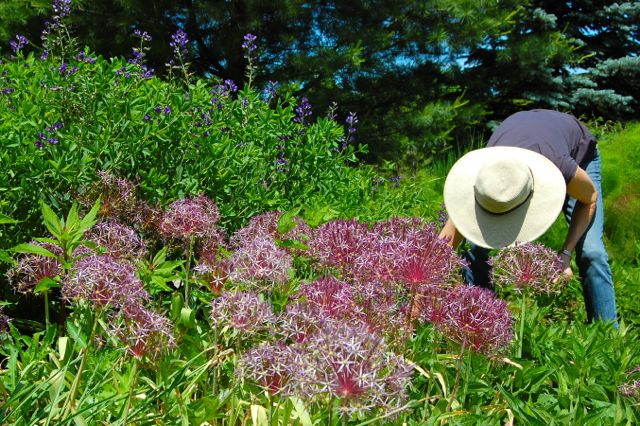 An impending moving date can't stop Yvonne from weeding. Her eye for design is only matched by her meticulous care (she might call it compulsion). We can't wait to see what she'll do with under an acre to tend.
Influenced by Piet Oudolf et al, Yvonne's compositions keep in mind colour, texture, shape and time.
We couldn't stop taking pictures.
The products of John's sculpting hobby will stay throughout the garden, too heavy to move to the new, considerably smaller garden. Some are "on lease" by the new owners.
John's rock garden was beautiful in its early summer colours, watched over by his first-ever work.
We were stymied to identify this lovely. However, I've since IDed it as horned rampion, a name that doesn't seem as pretty as the flower but is much easier to say than the botanical mouthful Phyteuma scheuchzeri. Read about it here.
The much-reduced pot collection still remains striking.
Helen, Yvonne, Sarah and Lorraine. (Note to self: Next time, keep the hat on to avoid that frightening hat hair!)
And the sweet Toby Dog.