Landscape artist Jean Paul Ganem and creative chef Michael Stadtlander having a laugh on the site of the Singhampton Project, earlier this year.
World-renowned local chef, Michael Stadtlander, together with landscape installation artist Jean Paul Ganem spent this summer creating a special event—a gastronomic installation—at his farm north of Toronto this August : The Singhampton Project. The idea is a moveable feast of food and art, held in two weeks of
August 2012. (10 – 26th) Michael and Jean Paul put their creative heads
together to create an environment where food, art, nature and music will
transform a few late summer evenings into a completely memorable
experience. See a sample of artist Jean Paul Ganem's astonishing ephemeral earth works, photographed mostly from above. At a preview I got a sneak peek of the growing spaces in progress.
Seven themed culinary gardens, in separate locations have been designed, inspired by the spaces that the landscape provides. Guests will stroll from one garden to another, over several acres of rolling farm property, sampling the fare at each outdoor kitchen/dining area. The ultimate in local dining, food will be grown and cooked on site at each garden.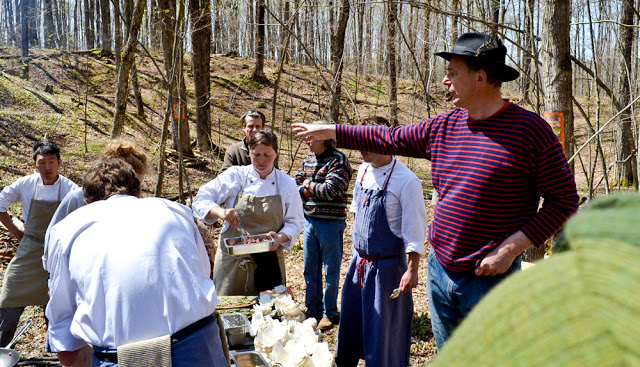 The designated spot for our preview lunch: a charming wooded glade
with sloping land creating a sheltered bowl.
Among the trees was a
working kitchen, complete with white uniformed assistant chefs, an open wood fire, and a neat preparation table. Footstools in a fairy ring
made a comfortable seating area for the guests.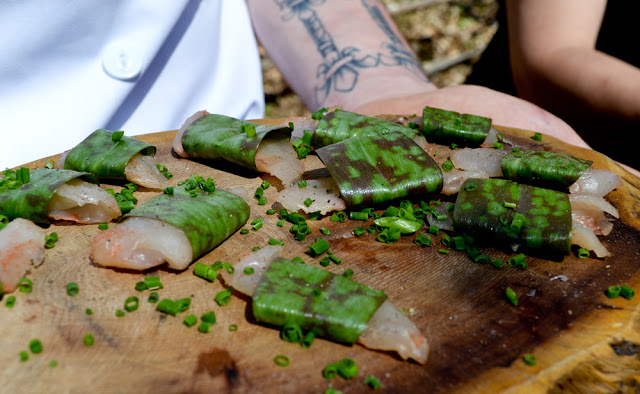 Tasty tidbits served on shells and planks of smooth wood. Here are
trout wrapped in Trout lily leaves, a  Stadtlander culinary joke.Who knew trout lily leaves were edible?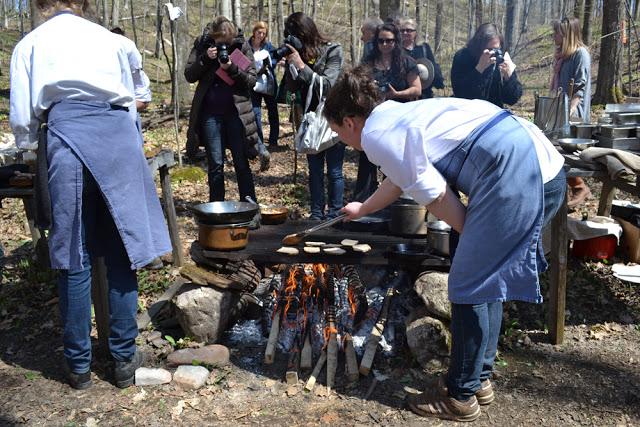 Apprentice chefs tend the open fire.
All the outdoor furniture is home-made, like this prep table made of old wooden pallets
Everything tastes better cooked outside, even coffee. The cutest little coffee prep table anywhere.
It was a treat to see Michael Stadtlander's farm property, filled with ingenious garden ideas, mostly homemade and forged from re-used bits and pieces. A trail of a gazillion, glittering wine bottles lines the edges of one pathway.
He's assembled a great garden team at the farm, I spoke with his head gardener —a young city transplant who loves the country life—over lunch. We talked in-depth compost over our crepes with home-made ice cream and maple syrup (tapped from the trees next to us) How often does that happen?
Rusted garden equipment makes a massive sculpture of a friendly farmer. Organic, of course.
We dined on fresh oysters in the "Oyster Temple of Love". Where do you throw your oyster shells when you're finished? On the roof!
Michael Stadtlander opening fresh oysters for the crowd in "The Oyster Temple of Love". A layer of used wine corks creates soft flooring. Oyster shells decorate the whole structure.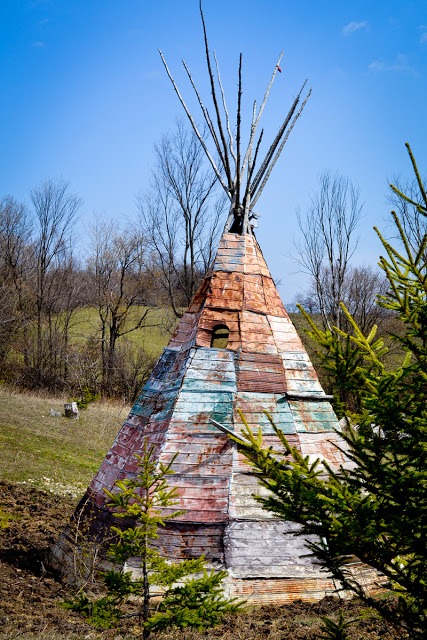 A teepee, created by a neighbourhood school, punctuates one growing space.
Material has been reused all over Stadtlander's farm. Wooden palettes were knocked together to make simple tables and chairs, massive logs cut into footstools; and broken crockery, toys and whimsical objects are set into the concrete of his outdoor baking huts, barbecues and storage buildings.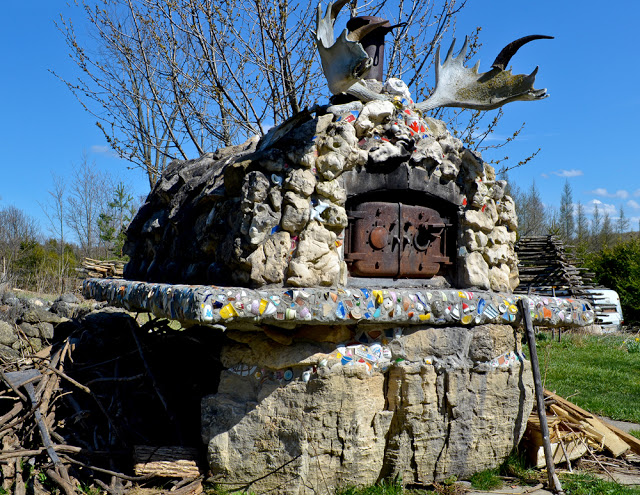 The outdoor oven comes with antlers, and a colourful collection of crockery mosaic.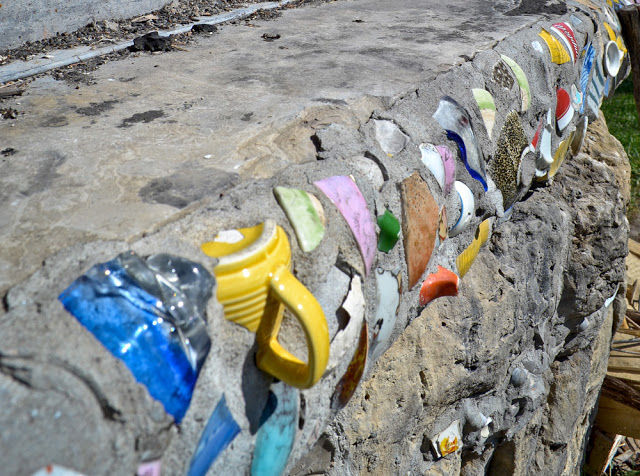 I got a kick out of this yellow mug handle poking out of the mortar on the oven.
This smoking hut makes me happy looking at it. It's like "cartoon architecture", with its frying pan lid, antler hooks and stone door handle.  The sign says, "SMOKING PERMITTED INSIDE."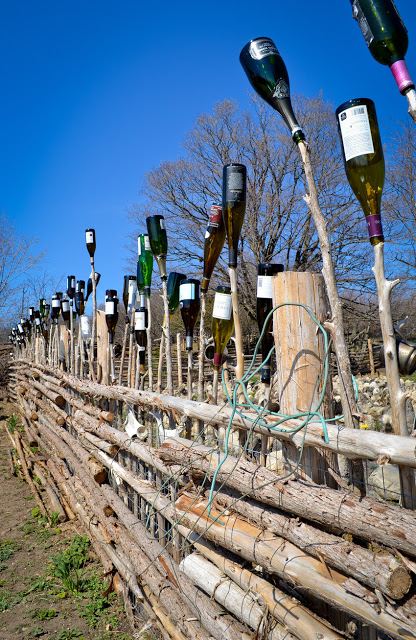 A different kind of bottle tree, wine bottles cap the stakes that map out the kitchen garden.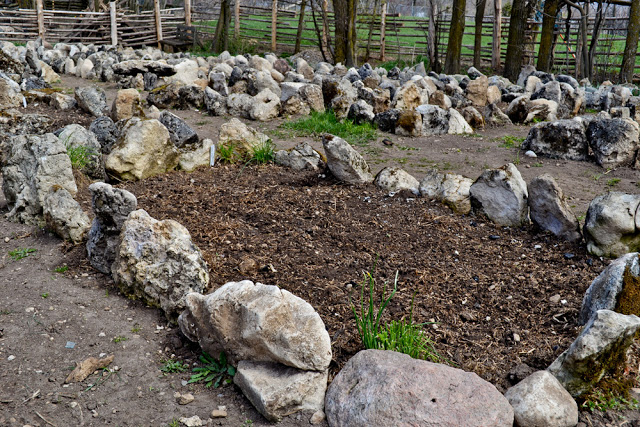 In the kitchen garden, large boulders form a ragged raised bed. A microclimate occurs when the rocks are heated by the sun, warming the
earth. Early crops can be covered in plastic sheets if necessary.
Casual, creative, fun, friendly, unpretentious, chef Michael Stadtlander
is a true artist, with imagination and a great sense of humour.
Spontaneity reigns: Michael was still dreaming up menu and
wine-pairing ideas at the spring preview. It's clear that his culinary
and artistic process is constantly evolving and changes as the
spirit moves him. I can't wait to see what the pairing of the two
creative minds—Jean Paul Ganem, and Michael Stadtlander—conjure up this August at the Singhampton Project.