Garden tours are like a box of chocolates.
There's sure to be at least one you love.
It's Toronto garden tour season! Last week, I previewed a few of the gardens you'll oooh! and aaaah! over in Resplendent Rosedale for the city's splashiest annual garden tour Through the Garden Gate, held every year in a different location as a fundraiser for the Toronto Botanical Garden. This year, they again avoid the Father's Day dilemma by holding the event on June 9 and 10; buy the two-day pass for a fraction more and you won't have to rush.
These are pretty special gardens. Teams of gardeners were readying the spaces as we wandered through.
Teams of gardeners, you say? Teams? What does that have to do with me and my garden? Here's what.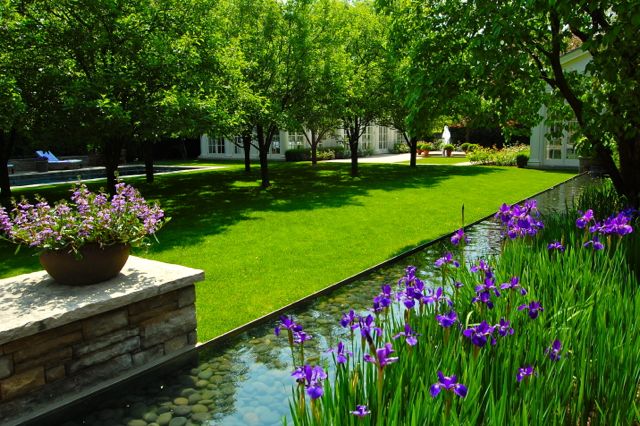 You can simply bask in the unimagined splendor of some of these spaces. Not a bad way to spend a few hours.
You can see how professional gardeners solve common garden problems. The ivy on this wall is the only support for these climbing roses. Once the roses flower, the gardeners lop them back for the second round. You could do that.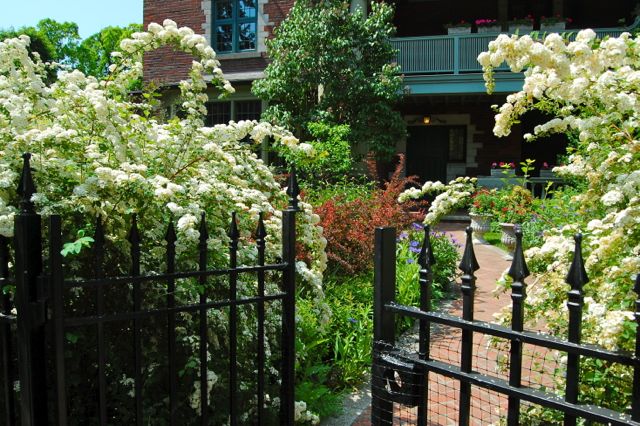 You can marvel at the impact that can be created by common garden plants. Nothing chichi or expensive about bridalwreath spirea (Spirea vanhouttii), red barberry (Berberis thunbergii) or mountain bluet (Centaurea montana). They're massed to splendid effect in this owner-designed Rosedale garden. You could do that, too.
And, if the weather cooperates, in the same garden you can be rewarded with an absolute lather of peonies.
With a Master Gardener stationed in every garden, you'll be able to ask, "What the heck is that plant?" (It's Actinidia kolomikta, the variegated kiwi vine. You can certainly do that, so bring a notebook as well as your camera.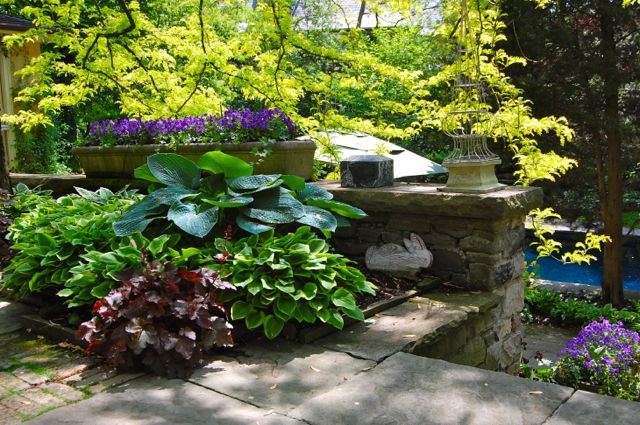 You can get ideas for your own garden, such as the soft curtain formed by this golden honeylocust tree (Gleditsia triacanthos 'Sunburst'). What a great way to add a sense of surprise by screening one area of the garden from another.  I won't spoil that surprise by revealing what's on the other side. You'll see. And it will surprise you.
You can witness the impact of having "one big thing" as a focal point in your garden, a great design trick for any sized garden. Yours doesn't have to be quite as big as this.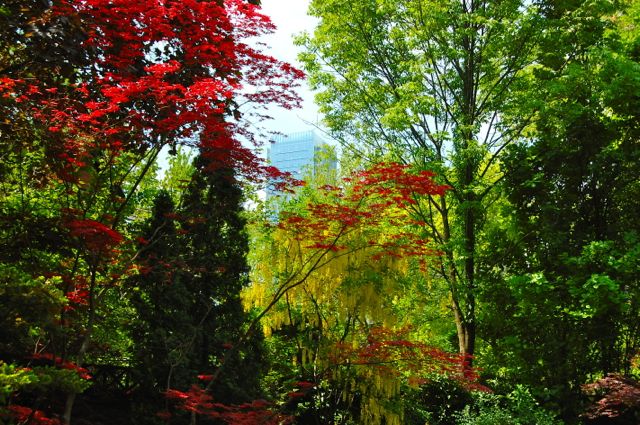 And you can forget for a few hours that all this greenery (and redery and yellowery), exists just a stone's throw from the concrete, asphalt and shiny condo towers of the heart of Toronto's downtown.
If you aren't free for Through the Garden Gate, other upcoming garden tours might suit your timetable. On June 3, it's the Hidden Gardens of Cabbagetown. Be quick getting tickets for this one, as it sells out quickly. June 17 is the Gardens of the Beach tour by the Beach Garden Society. Unfortunately, they don't list the ticket locations on their website (perhaps, they'll rectify that soon). However, they can often be purchased at local stores, including East of Eliza. June 23 is the Magical Gardens of Leaside. And for other garden tours hither and yon in Ontario, check Melissa's great listing at The Empress of Dirt.
[UPDATE: And here is info about some exciting Hamilton-Dundas-area garden tours, thanks to Yvonne Cunnington of the Country Gardener blog.].
Hope to see you in the gardens. I'll be the annoying one with the camera.