Last summer, I was thrilled to visit the queen of all things handmade, Lorene Edwards Forkner, to see real-life versions of projects that would appear in her then-upcoming book, Handmade Garden Projects from Timber Press. Stick around to learn how you could win a copy in Toronto Gardens' first-ever giveaway.
If you've read my disaster with concrete paving stones or my husband's ingenious watering can fountain, you'll know that I embrace handmade garden projects.
When I received my review copy of Forkner's book a week ago, I began to spontaneously emit what can only be described as squeals of glee. Many of them.
Naturally, when I get all het up like this, I approach my husband, smile, and say: Honey… come closer. There's something I want you to do. Usually, he needs no further encouragement.
Let me share some of the scenes from the Edwards-Forkner garden, then show you what we, um, did.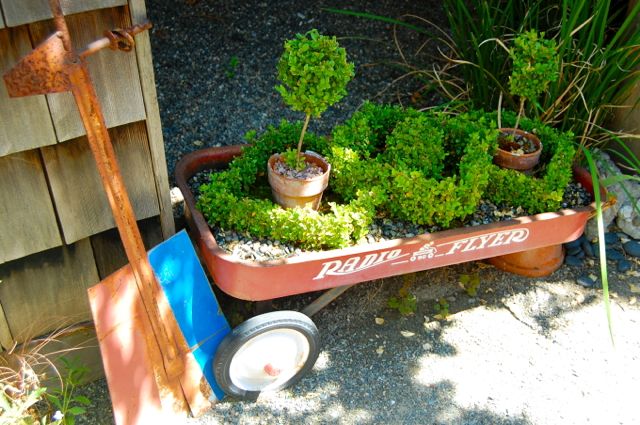 Lorene Edwards Forkner created a portable topiary in an old Radio Flyer wagon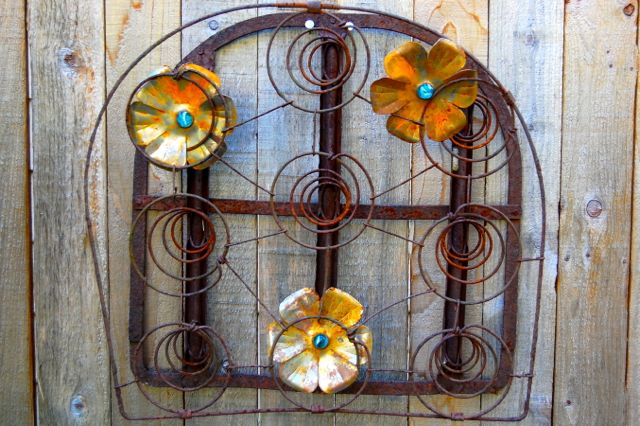 An old seat spring takes on a windowlike quality as sculpture
In another out-of-the-box application, Forkner turns a wire basket into a novel hose support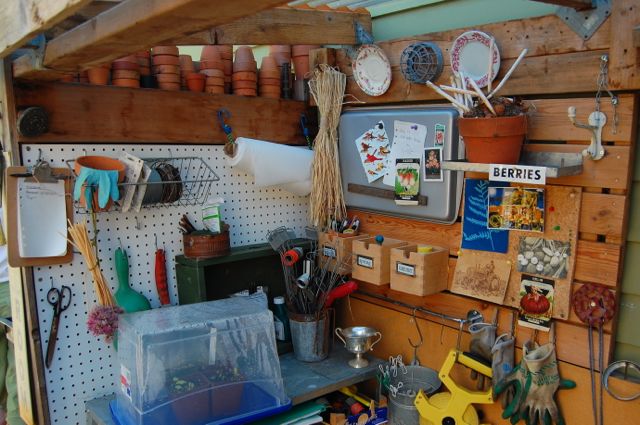 Among the many project ides in the book Handmade Garden Projects is a recipe for turning old IKEA shelving and a repurposed baking sheet into this garden shed organizer.
Right away, there were a number of ideas in the book that we wanted to try our hands at. None are particularly tricky. But Mr. TG is a project-oriented thinker who also happens to be a doer. So before I could blink twice, he had launched himself into making these canning jar garden lights from the book.
The impetus for the project began when Mr. TG found stick-on LED touch-lights on sale for less than $3 each at Home Hardware. After experimentation, he discovered they fit best in the lids of wide-mouth canning jars.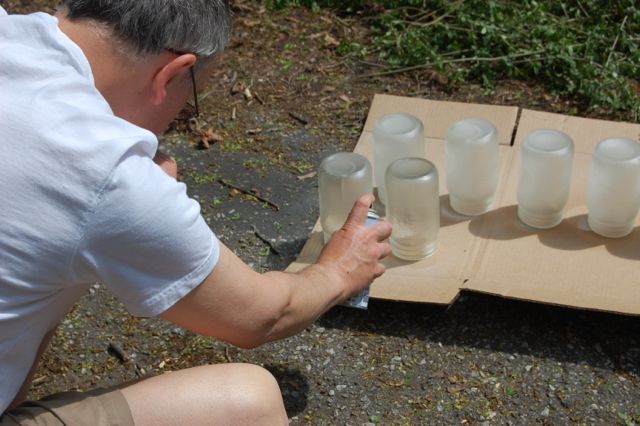 Jars were also bought from Home Hardware at $13 for a dozen. Mr. TG gave the outsides an spraying of glass frosting.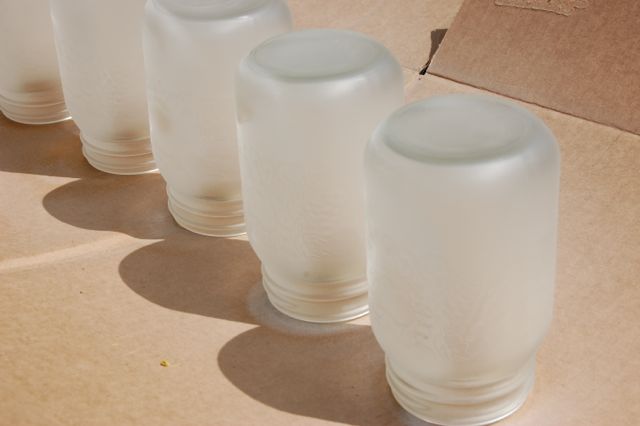 The spray paint frosted up as it dried. All 12 jars were coated with one can of spray.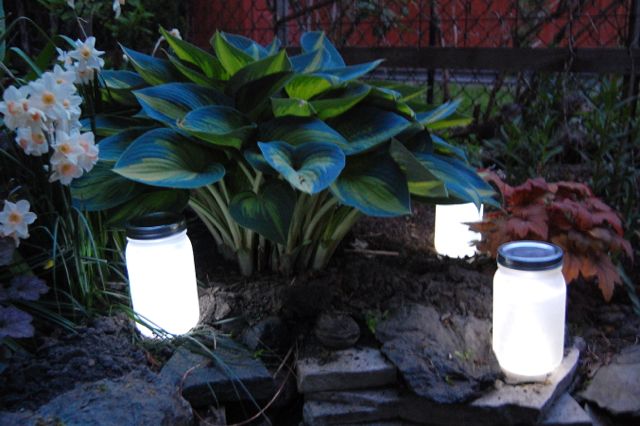 Here's a closeup of the finished jars in the garden. Because LEDs run cold, the lights can cosy right up to plants.
And the big picture in the Microgarden. Now Mr. TG is already geared up to make a dozen more.
So that's a taste. And if you leave a comment and tell us either about what kind of project you've tackled yourself, or what kind of project you'd like to do, we'll draw a name and award a copy of the book, the winner of which we'll announce in another post. [UPDATE: Oops! Forgot to include a closure date. Please comment by Monday, May 21, 2012 to qualify for the draw.]
Now I'll close with a vignette from Lorene's garden. Now this is a garden with a personal imprint!