Parklane's dry stone wall at Canada Blooms 2012
Robert Frost might not forgive my mangling his poem but, judging by the number of them at Canada Blooms 2012, something – or, more aptly, someone – does love a wall. Especially a dry stone wall.
Dry stone walls are constructed without mortar to glue the stones together. This can range from stacked stones of equal depth, such as in the large wall in Parklane's exhibit. Or, a dry stone wall can be made of stones varying in size and shape.
It's an ancient craft, dating to the Bronze Age in the Old World. A well-built dry stone wall can easily last 100 years; perhaps requiring the occasional mending that Robert Frost described. (The Cotswolds farm, where our family lived before coming to Canada, was enclosed by many centenarians. You can just glimpse a bit of one in our portrait in the right column.) Some dry stone walls, or significant portions of them, have endured for millennia.
Over the past couple of years at Canada Blooms, I've noticed dry stone construction emerging as a subtle trend. Perhaps it's part of the move towards a more natural, rusticated style. Even concrete pavers, for instance, are being made to look more and more like the real thing these days. And, despite the initial cost, when you consider how long a stone wall can outlive fencing, it's a relatively durable investment.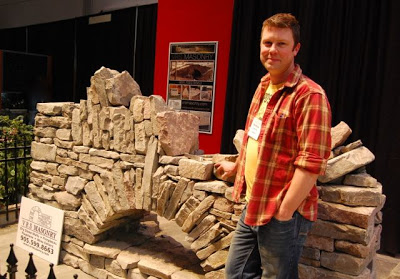 Reid Snow of VRS Masonry
That being the case, I was surprised there weren't more crowds around the display of VRS Masonry. For one thing, a stone archway held together by nothing but craft and gravity is a pretty cool thing. It's solid, too. Owner Reid Snow, at right, built possibly the only one-man dry stone bridge in the country, showcased on the website of the Dry Stone Guild of Canada.
In addition to walls and bridges, dry stone construction has been used to create fireplaces, wells and fountains, cairns and pillars. I'm a fan.
If you're curious, Canada's Dry Stone Walling Association has links to examples of old and new dry stone walls, coast to coast. There's also a DSWA parent group in the UK.
[UPDATE: Thanks to the tweeters at Landscape Ontario Magazine (@LOassocMag) for the heads-up about the Stonewurx International Dry Stone Walling Festival this September 28-30, 2012, in Hanover, Ontario. If you're interested in learning the craft, you can sign up for some literally hands-on learning.]