Part of a voice print from June Callwood's final interview
Canada Blooms gets knocked these days for not pulling a magical rabbit out of its increasingly shrinking pecuniary hat. However, one bit of magic it does do is to fund garden projects around the city through the work of the Toronto Garden Club.
Past projects have included the Casa Loma and Spadina House Gardens, the Toronto Brick Works, the Edwards Gardens teaching garden and the Piet Oudolf-designed entry garden at the Toronto Botanical Garden. Canada Blooms is the prime fundraiser for such projects.
In 2012, the lion's share of what little profit the show made* – $50,000 of it – went to commemorate the voice of one of Canada's most compassionate writers and social activists, helping to create June Callwood Park. (*I heard, unofficially, that the remainder amounts to a number in the four figures.)
Shortly before Callwood died of cancer in 2007, at age 82, she gave her final, touching interview with CBC's George Stroumboulopoulos. (It's worth a look.) Callwood knew she was dying and, when discussing what she felt came after death, Strombo asked if she believed in God.
She replied, "I believe in kindness."
I wrote "commemorate the voice of" quite consciously, because it was a voice print of those words of Callwood's that formed the basis of the winning entry, by Toronto firm gh3, in the international design competition. The Garden Club of Toronto will use the funds raised at Canada Blooms to plant a central section of the park, highlighted with a pink background below. See a slideshow of gh3's design here.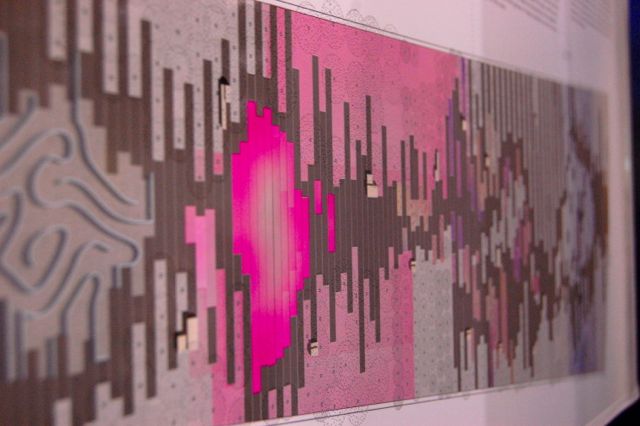 The park runs north and south from Ft. York Blvd. and Fleet Street, between Bathurst Street and the Exhibition grounds
As if this weren't cool enough, the garden will also integrate a sound sculpture by Montreal artists Steve Bates and Doug Moffat. Few know that June Callwood was also a licensed pilot. Like the sun-split clouds of John Gillespie Magee's poem High Flight, the experience of flying through clouds was something she spoke fondly of. The sound sculpture features a sensor aimed at the sky, creating sounds based on the shape and movement of clouds.
I was lucky enough to experience a similar sound installation by Bates and Moffat, Soundfield, at the International Garden Festival at Reford Gardens/Jardins de Métis in 2007.
The park is a strong addition to Toronto's urban landscape that sweetens the experience of city living. I hope you'll reflect on Canada Blooms with kindness when you visit.