Titan arum (Amorphophallus titanum) on its way to flowering
I came to Niagara Falls for the daffodils; 500,000 of them. More on that later. My surprise find was one of the world's biggest, smelliest, most suggestive flowers in bud, the titan arum (Amorphophallus titanum). In the next couple of weeks or so, it will burst into bloom and reveal why it's also called the corpse flower.
Yep, it will smell like rotting meat. And if you get yourself over to the otherwise charming Niagara Parks Floral Showhouse sometime in early May, you could experience it. The bloom lasts only a couple of days.
Note that the Showhouse is available for weddings and events… though perhaps not advisable during the flowering season of this rare Sumatran native. The receptionist just a few feet to the left of this photo is really looking forward to the opening of this flower, I'll tell you! That being said, I wish I could be there when it happens. I mean, how often would you get the chance?
Admission is less than $6, all of which supports the conservatory. Add it to your Niagara Falls itinerary!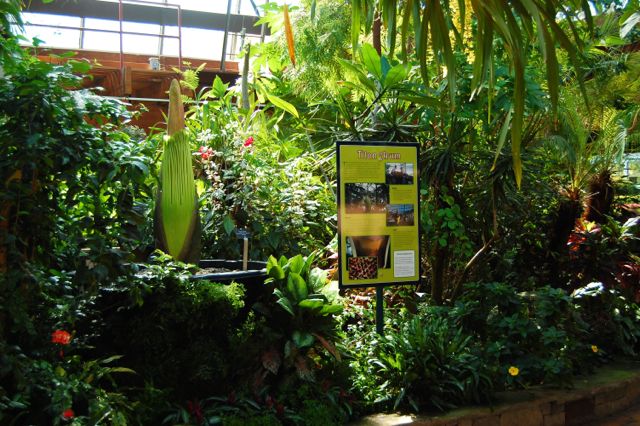 A long view, to show the arum's relative size. The rapidly growing flower can reach as much as three metres (9 feet).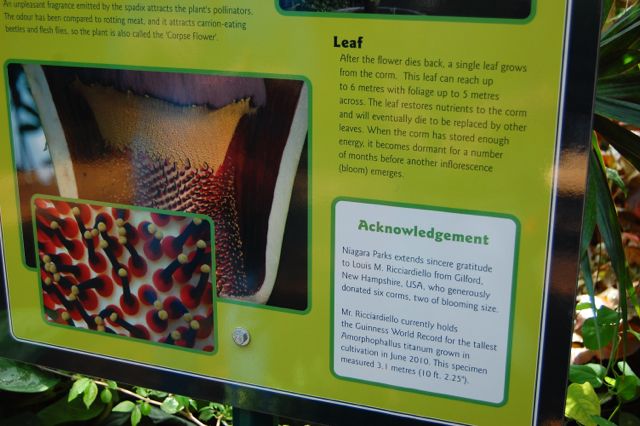 A closeup of the flower's male (solid yellow) and female (red/black/yellow) organs, as explained on the signage.
The Niagara Parks Floral Showhouse is a charming sidetrip, a short walk from Canada's Horseshoe Falls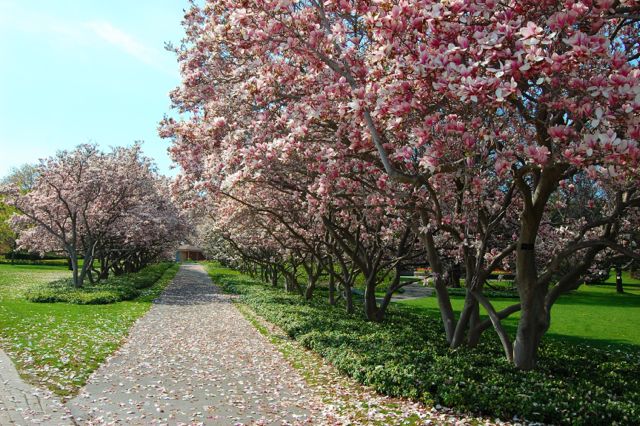 An avenue of saucer magnolias (Magnolia x soulangeana) marked the entry in late April 2012
The top of the Falls is almost visible from the front rose garden, watched over by the Spirit of Park Hall
Flowering crabapples and a Japanese maple nearly in leaf edge the rose garden by the entry
Corpse flowers aren't the only attractions in the attractively composed hot and cool conservatories.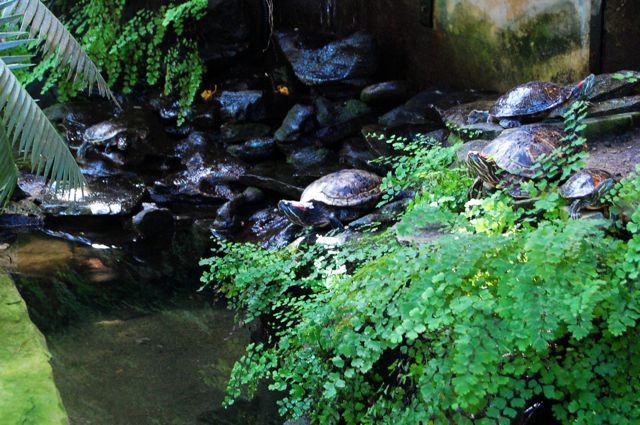 Besides the gigantic arum, kids would love the turtle family or plants like the Fairy Washboard Haworthia. In fact, a group of mums and small children were in line after me.