A carpet of Pushkinia and Chionodoxa at Rosetta McClain Gardens
In his chapter on bulbs in Planting the Dry Shade Garden (a review of that will follow), Graham Rice mentions two that for me are tried and true, one that is on my wish list, and one big surprise. The charmer brightening the path above, however, is missing from the list.
This post focuses on two of the less-known spring bulbs: Chionodoxa (common name "glory of the snow"), one of my tried-and-trues, and its cousin, Pushkinia (common name "striped squill"), above.
Chionodoxa forbesii 'Pink Giant'
As glory of the snow suggests, this diminutive bulb with the starry flowers appears early in the season, but blooms for a fairly long time. We were  introduced when I ordered the pale 'Pink Giant' from the Beach Garden Society bulb sale. But I think if I'd known they existed, I might have chosen one of Chionodoxa's beautiful gentian blues instead. You can just detect some peeping up on the right of the picture above.
Nevertheless, Chionodoxa increases and performs undaunted in my toughest dry shade spot, a sharp, sandy slope. It does get some sun, but never a full day's worth. It deserves to be one of Graham Rice's picks. I'm planting 50 more 'Pink Giant' this year.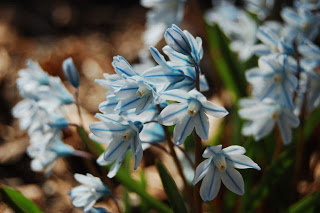 Pushkinia libanotica
That its close relation Pushkinia was missing from Rice's dry shade bulb list, therefore, surprised me a little.  I've found it to be quite adaptable to dry shade conditions, and the fine blue stripe in the white stars adds an unusual icy colour effect to the garden.
Rosetta McClain Gardens pairs it very effectively with Iris 'Katherine Hodgkin' – an iris of such a rare, iridescent turquoise hue, it made me positively slather with desire.
Sadly, I'll have to do without Ms. Hodgkin, but will be planting 60 more of the striped squills.
Iris 'Katherine Hodgkin'
By the way, the other dry shade bulbs recommended by Graham Rice? One is my trusty Galanthus or snowdrop. I've grown both G. elwesii and G. nivalis, and found the latter to be far the best spreaders. But after a recent (accidental) purchase of G. woronowii, which has bright green, shiny leaves, I've since read that this could be an even better choice for the dry garden – though might prefer sun. We'll see.
The total surprise for dry shade is Rice's recommendation of Narcissus or daffodils. I've tried daffs before with limited success, probably due to vigorous root competition from Norway maples. Encouraged by his choice, I'm trying again – even if just for one year of bloom – with two of the smaller, rock garden narcissi, N. 'Thalia', whose white, graceful flowers are a favourite I've grown before, and for the first time N. 'Bell Song' which is pink and white.
This will be a wonderful weekend to plant some spring cheer. Looking forward to it.