Patrinia scabiosifolia in the formal garden of Oldfields, Lilly House, on the grounds of Indianapolis Museum of Art
There I was, wandering lonely as a cloud, floating on high o'er vales and hills (on the grounds of the Indy Museum of Art), when all at once, with apologies to Mr. Wordsworth, I saw a crowd of golden… something amazing. And, as I drew closer, said to myself: Ooooooh. That must be Patrinia!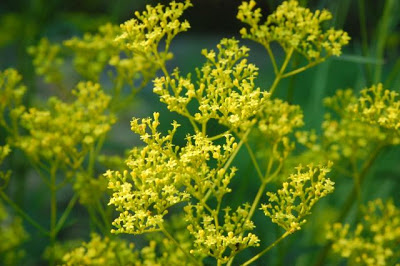 Sunlight transforms the flowers into beacons
And so it was. Patrinia scabiosifolia – a showstopper in the August garden. The tall, erect, chartreusy froth of yellow is pure refreshment. The photo above is before it was touched by sunlight.
Once filled with late summer sun, the plant positively glows, particularly when seen against a dark background. From another angle in this formal garden, this golden cloud was silhouetted against a dark hedge of conifers.
The specific epithet or species name, scabiosifolia, underlines the difficulty of identifying plants when not in flower. It means "with leaves like scabiosa."
A glimpse of the scabious-like foliage
We see that "-ifolia/um" suffix on many plant names (Platanus x acerifolia = plane tree, with leaves like maple and Thalictrum aquilegifolim = meadow rue with leaves like columbine, for example). Imagine what identity problems humans would have with names like that.
Patrinia is a fairly forgiving plant, as long as you can give it sunshine and, as you'd expect from its statuesque form, space. This perennial can grow to 2 m (6′). It's hardy in USDA Zone 5 according to B.C.'s Bluestem Nursery – which is also a great source for grasses to pair with it.
As I have neither sun nor space, I'll just have to admire it from afar. But I'd be happy to think of you enjoying it in your garden.