My son's hand at age 12 still waves to me in my garden
My first "concrete" art-making experience involved 250 kids, a stack of take-out trays, latex gloves, and a cement truck. My idea was to have each kid make a stepping stone with their hand print and name. We'd use the stones to repave the school's front walk. Brilliant, right?
We practiced with my son's Grade 8 class, our assistants for the rest of the school. For our practice run, I purchased a small concrete mixer from Lee Valley Tools. But we'd need more capacity for 250 stones.
So I called the professionals. How much concrete would I need? Shrug. A yard? Half? Um. I guess so.
As the truck poured (and poured) a mountain of premix, I quickly learned what half a yard of concrete looked like. Waaaaaaay too much.
Concrete sets quickly. You have to act fast. Urgent calls went out, and many neighbours came with buckets for projects of their own.
Meanwhile, aided by the Grade 8s and some very accommodating teachers, class after class filed out to press gloved hands into concrete. We made our stepping stones – and avoided leaving Battersby Mountain forever in the school driveway.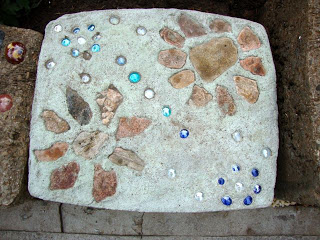 Unfortunately, the school board had its own ideas about appropriate paving.
You don't have to be as dumb crazy ambitious as I was, nor a master of the concrete medium like sculptor Birgit Piskor, to have fun with concrete.
Look at these simple blocks with their inlaid flowers. A few cardboard boxes as forms, with ordinary stones arranged on the bottom before pouring, or pressed into the top. Done.
The impressions of leaves or seed heads, or a mosaic of smooth river stones, would be just as easy, if you prefer more sophistication.
In the right garden, though, these childlike patterns would be charming, don't you think?