Anemone blanda 'White Splendor'
Where would gardeners be without the gigantic Ranunculaceae or buttercup family? Well, we'd be without perennials such as Clematis, delphiniums and hellebores, without annuals such as columbines (Aquilegia) and love-in-a-mist (Nigella). And we'd be without anemones.
And, without anemones, we'd miss out on one of the easiest early spring bloomers, Anemone blanda, Greek windflower. It's one of the smallest members of the Anemone family, which includes the native woodland flower A. canadensis, the tender, poppy-flowered A. coronaria, and the hardy, late-summer Japanese anemones (A. hupehensis).
My dry shade garden has been home to blue and to white A. blanda for years, so these little fellas are tough. In fact, any that disappear are usually because I've killed them accidentally by digging. A few clumps beneath undisturbed shrubs still reliably come up, year after year, gently increasing. Wanting to fill in the gaps and brighten the shadows, I ordered more 'White Splendor' this year.
Anemone blanda grows from tubers. Rather unpromising looking tubers. They really are a mystifying little "bulb" – and the first question most people ask is, "Which end is up?" It's hard to tell, even if you know what to look for. But don't worry. Let me take you through the steps.
Anemone blanda tubers arrive black, shriveled and needing a really long drink of water.
The first thing to do is give them a soak, for about 24 hours. No longer than that, or they'll start to ferment.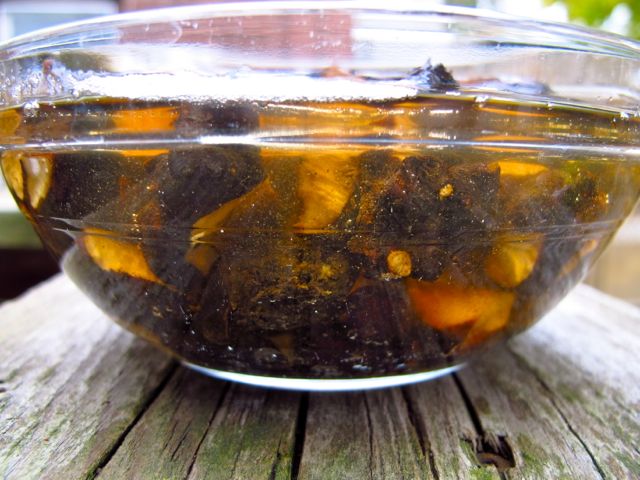 After 24 hours, the tubers will have almost doubled in size. This makes them slightly less mystifying. But only slightly.
This is a dry tuber and, if you're lucky, it will have a fibrous dried stem to show you which is the top.
Same tuber (I think) after soaking. You can still see the fibrous tufts of the old stems.
In some cases, though, the tufts are no more than polkadots, like tiny nipples on tiny breasts. Go back to the shot of the bowl of dried Anemones, click on the shot to enlarge it and see if you can spot which ones have the dot-like tops. Hard, isn't it?
The usual instruction is, "if you can't tell which way is up, plant it on its side." Okay. Yet in many cases, this leaves you asking, "So which is the side, then?"
Never fear, my friends. The good news is that no matter which way you pop these babies into the soil, they'll sort themselves out. The Anemone blanda tuber knows which way is up, even upside-down in the dark – without any help from us.
All you need to do to befriend anemones is to plant them (in clusters or groups, rather than singly), enjoy them. And try not to kill them accidentally.