When you have 350 bulbs to plant – and your soil wears bulletproof armour in the form of impenetrable Norway maple roots – you'll try anything to make your life easier.
So when I noticed this inexpensive, ergonomic Y-Grip Trowel on the Botanus website, I wondered how it would stand up to my long-handled bulb planter. I added it to my shopping cart.
Is it worthwhile having a specialized tool just for planting bulbs? Unlike my long-handled planter, a trowel can be used for more than just bulbs. The Y-shaped handle provides leverage from different angles as well as the potential for two-handed power.
[Note: I've tried and rejected other specialty bulb planting tools such as the dibble (round and pointy for making holes – but a blister-maker in my root-infested soil) and the hand-sized bulb planter (fine in fluffy soil, I guess, but not enough oomph for mine). A regular trowel can also be useful using the method described below.]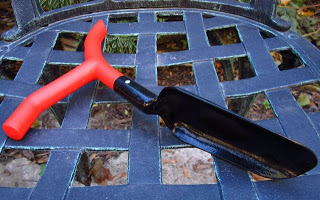 The Y-Grip Trowel did make digging easier
First up was the trowel, put to work on my sharp slope. For the small bulbs that were going here, Chionodoxa and species tulips, you don't need to dig a round hole. Just open a wedge in the soil by daggering down, then forcing the trowel forward.
Being narrow, the trowel shimmied between the roots, as any trowel would. Its Y-shaped handle, however, made it easier to use my own upper body weight and apply back-and-forth or side-to-side pressure. I planted two at a time, one at each side of the trowel's width. The pointier end of the handle was useful to widen a channel for the small bulbs.
Especially when working in tricky locations, such as on the slope or when interplanting between closely planted perennials, or for planting small bulbs where a large hole isn't required, I give the trowel method the thumbs up, and using the Y-Grip gets an extra thumb.
Use your own weight for greater leverage
Next came my trusty long-handled bulb planter. This is a heavy-weight forged steel tool, with a long steel shaft and wide, t-shaped handles. To show how old mine is: I bought it at Cruikshank's when they still had a store on Mt. Pleasant – probably before you were born. Many similar tools are around today.
The long-handled planter works like a spade to dig a round hole. The key to its usefulness with tree roots is its weight and durability. Get the best you can afford. If you go for light-weight and flimsy, you're throwing your money away. Once your foot rest reaches the soil, twist the handles and pull up the soil plug. Below is a perfectly round hole, ideal for larger bulbs.
If tree roots are your garden bane, avoid any planter with a crenellated edge, like the top of a castle. Those corners eventually bend and cause resistance, making your work harder. You want an edge that you can continually sharpen for a clean cut.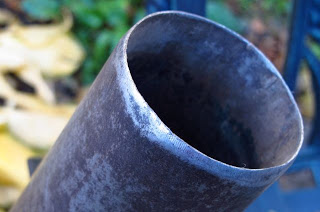 Use a file or grinder to sharpen the cutting edge
Once the bulb is planted, remove the soil plug from the top of the planter. Save work by placing a large bulb at the bottom of the hole, filling half way, then adding 2-3 small bulbs around the edges before topping up the soil completely.
Or, if your soil plug is held together with roots, plop the whole thing back as a unit to try to slow the squirrels down – slightly.
The bottom line for my test? On a flat surface where you can easily stand and dig, nothing beats my long-handled bulb planter, especially for large bulbs or layered planting. But the Y-Grip Trowel did make work easier with smaller bulbs where standing to dig was impractical or space was tight.
My other secret weapon? A daughter who volunteered to plant my daffs in the back garden. That literally cut my work in half. You should try it!