Here's the inspiration I promised when I wrote about concrete garden projects last week: works of imagination – all of them carefully crafted of concrete – by Victoria, B.C., sculptor, Birgit Piskor. And here's the bonus. Not only is Piskor a gifted sculptor, she is also a gifted gardener.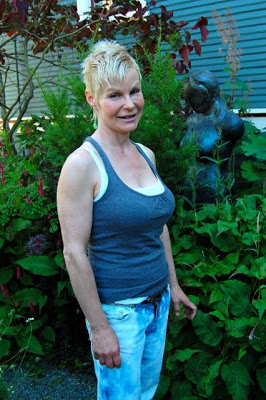 In July, I enjoyed a guided tour of Birgit's garden through Joan Looy's (highly recommended) Victorian Garden Tours. Victoria is known as the "City of Gardens," and Joan can put you behind the garden gate of some of Victoria's best private gardens. Birgit's, for example, was named Canada's best urban garden in 2005 by Canadian Gardening magazine and was also the feature of an episode on the Recreating Eden television series. It remains a very special garden.
Birgit works in what was her childhood home, a cottage on a small urban lot in Victoria's artsy James Bay neighbourhood. On our way to her gallery, set in what would have been her living room, we pass under the branches of the spruce tree planted by her father. When she returned to live in the house, she transformed the garden with a true passion.
And, somehow along the way, without any fine arts training, she discovered she was a sculptor.
The sculpture she's standing in front of in the portrait was her very first piece. Concrete's properties hooked Piskor then and she has since grown in originality of expression as well as in mastery of the medium. Her work now appears in collections around the world. For the past several years, she has supported herself solely as an artist.
I hope Birgit's story inspires you to try something new as much as it inspired me. Or, perhaps you'll be inspired to order a little bit of Victoria for your own garden. The link near the top of this post takes you to Birgit Piskor's online gallery. For more, here's a link to a 2010 interview with Birgit.
Walk along the pathway to her gallery, past colourful foliage and over a small carpet of inlaid beach stones
One of Piskor's figures rises from a cascade of flowers. Hard to believe the sidewalk is a few steps away.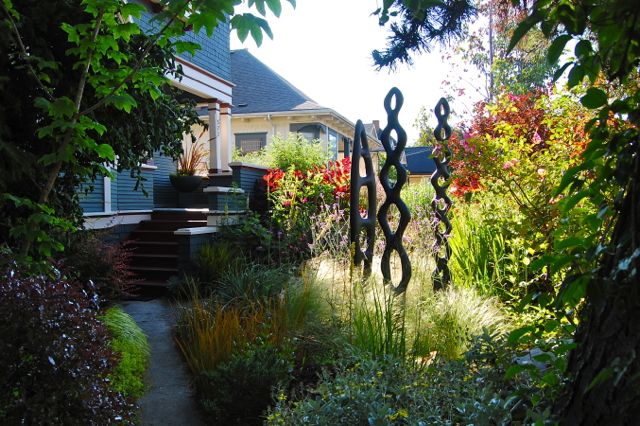 A trio of sinuous abstract forms rises from misty grasses. Piskor's materials allow her works to weather outdoors.
This concrete planter of succulents sits right beside her front door. Note the fluted shapes.
Inside the gallery, a sculpture finished in gold-leaf echoes the leaf and flower shapes outdoors.
A (deceptively) simple project to try to emulate. Note the bubbly texture of the succulents, repeated in stone pavers.
One of Piskor's mysterious wrapped figures in her exuberant garden, which uses the vertical  plane to compensate for her small lot. Victoria's Mediterranean climate, with cool, dry summers, makes dense planting more feasible than it would be in Toronto. If I tried this, I'd be overwhelmed by powdery mildew.  Here, the bright palette glows in the sunshine.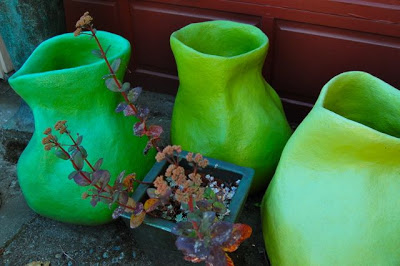 A cluster of undulating urns makes a backdrop for a simple sedum