The Black Garden at VanDusen Botanical Garden, Vancouver, B.C.
Black plants are trendy at the moment. So I thought the Black Garden might be a good entry point into a post on an amazingly diverse botanical garden such as Vancouver's VanDusen garden.
Actually, it's a bit misleading to call this a black garden. First, there are no true black plants in horticulture – although some deep purples come pretty close. Second, a garden with only the foliage and flowers we call "black" can seem like, well, like a black hole. As you can see from the pictures, the contrast of golden, chartreuse and red foliage are just as important to the look of this garden.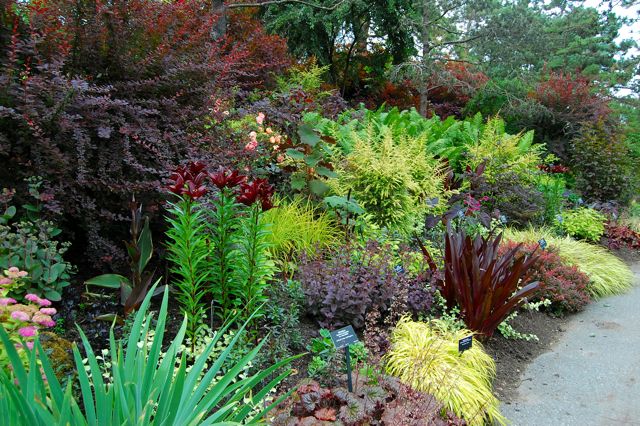 Purple berberis, deep red Asiatic lilies, heucheras and sedums are among the dark plants in this bed
The Black Garden isn't large. In fact, the first picture shows almost the whole thing. However, it is a well put-together demonstration garden of striking plant combinations. By demonstration garden, I mean that the beds have been planned less for the purposes of design – although they're certainly pretty – than for education. A garden designer would likely use fewer plant species, and mass them for stronger impact.
One near-black foliage plant is black mondo grass (Ophiopogon planiscapus 'Nigrescens') which appears as an edging plant. It isn't actually a grass. Lilyturf is the common name for Ophiopogon's close, sometimes indistinguishably close, cousin Liriope (which is also known as mondo grass; another example of the common-name trap), and both are in the lily family. Black mondo grass should be just-hardy in Toronto (USDA Zone 5/Canadian Zone 6) with winter snow cover. I've seen it for sale at Connon Nurseries.
Unfortunately, the dramatic Aeoniums studded within the mondo grass are not winter-hardy for us in Toronto, although I have noticed Gardenimport selling a similar one as a "temperennial" — essentially, a perennial grown as an annual, unless you're lucky enough to have a greenhouse. (I get no benefit from either garden vendor mentioned; they simply denote availability in our area.)
Red, chartreuse and even peach make excellent colour punctuations in the Black Garden
Black can be a tricky colour to use in the garden, especially in a shady site that already has its share of darkness. Cover up the yellow foliage in the photo above, and you can see how black foliage alone can recede dangerously into shadow. On the other hand, used with colours that advance, such as yellow, black can add a pleasing illusion of topography. It's a different kind of texture; chromatic texture.
If you were taking notes, VanDusen makes life easier with excellent plant labels. Sedum 'Postman's Pride' at right was one of the blackest of the blacks – though its reflective surface lightens up the effect in this picture. However, shiny leaves of any colour are another variation to consider when designing your plantings.
As a sidebar: thanks to reclassification by taxonomists, if you're hunting for this plant, you might find it with the double-barreled name Hylotelephium telephium 'Postman's Pride.' Sigh. Just when will they stop the name shuffle?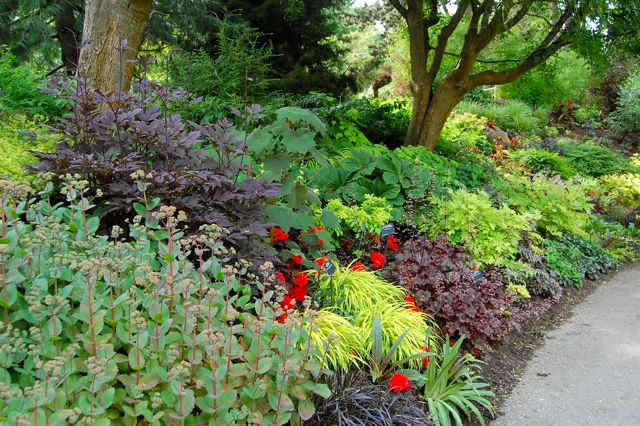 The entire plant needn't be black. I like how the red stems in the sedum (bottom left) echo the dark colour theme.
The image above emphasizes the different textures of the foliage used. If you have any doubt, look at the same picture below, but rendered (not all that professionally, I'll admit) as a B&W image.
By the way, this is a useful trick for judging the colour and textural variations in your own garden. Most digital cameras or photo processing software these days allow you to turn a colour photo into black and white.
See the pools of light and dark, but also the linear and round, upright and prostrate contrasts? Sometimes, like the three grassy textures together in the bottom middle of the shot, repeating a similar texture in different colours can be effective, too.
Even in the late-summer garden doldrums, the VanDusen Botanical Garden has much more to offer than this little strip of land. Visit my Flickr site for some more shots – best viewed in Slideshow mode for the largest image size. It includes a peep at the beautiful new visitor centre under construction. Completion is slated for Fall 2011.
Golden bleeding hearts, hakone grass, creeping lysimachia, hostas and heucheras help turn on the lights.