A tapestry of pastels. Arrestingly beautiful.
Can a garden work without blooms? Of all the things I could say about Seattle's Dunn Gardens, this question floated to the top as I reviewed my many photographs. What happens after the flowers fade?
But, first, the Dunn Gardens deserve an introduction. Originally, they were an early 20th-century family estate with gardens designed by the Olmstead Brothers. Generations of Dunns considerably added to and maintained the gardens. Today, they're a registered historic site funded by a charitable trust, and for nearly 15 years have been under the curation of Glenn Withey and Charles Price. The gardens are open to the public during special events or by appointment, usually restricted to groups of 12 or less.
Our 70+ bloggers descended on this 10-acre wooded compound with our garden antennae vibrating. The trees alone – many not native to the Pacific northwest – could be a post in themselves.
Red and yellow foliage pop in the Curator's Garden by the Arthur J. Dunn Terrace
After the thrill of being in a space recedes, you regard it with a more critical eye, and begin to ask: What makes it work? The colourful Curator's Garden above, for example. (For reference, see this Seattle Times story on the garden by Valerie Easton. [Update: in 2016, this link is no longer active]) If you look carefully, you'll see that all that colour is achieved with a minimum of flowers. There's a patch of calendula on the right, subtly mirrored by a soft yellow brugmansia at the far end of the stone bench. Some monochromatic annuals in pots. Like the ribbon of purple verbena, they'll continue to bloom. But that bright splash of red lilies is only too transient. It's foliage, yellow, red and green, with attention to form, that carries the burden here.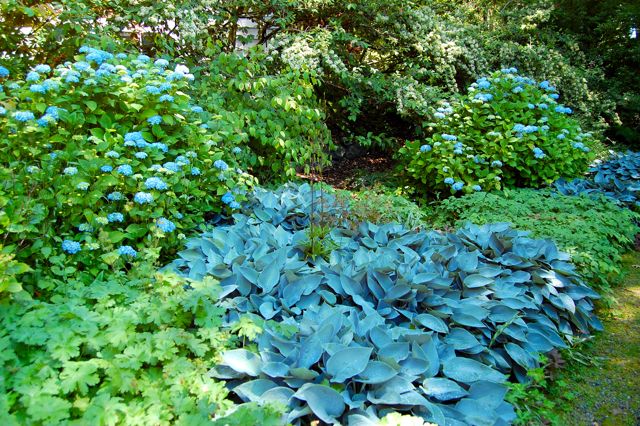 A frosty sea of blue 'Halcyon' hostas and blue hydrangeas, with islands of green geranium.
I was particularly impressed with the simple combination of blue-on-blue above. This online article on Price and Withey's top-10 plants for colour suggests that the hosta might be 'Halcyon.' Over time, we'd see this blue turn to gold, with the Geranium macrorrhizum shading with red. If they're like most hydrangeas, the blue will turn green then brown, but retaining the snowball form. Piet Oudolf has been influential in pointing out the beauty of flowers in all stages of life and ripening. Hydrangeas are among the increasingly appreciated array of flowers that look attractive as they decay. With all this changing colour going on, any blooms on the hosta or geranium become almost superfluous – albeit lovely.
That was the case for so many of the garden beds we enjoyed at Dunn Gardens. More below.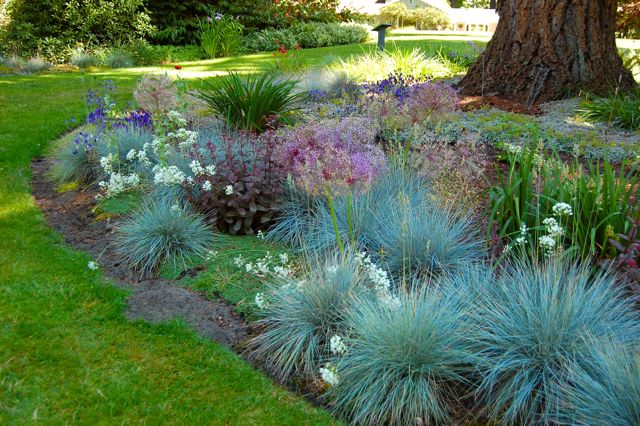 A mist of blue and purple foliage and pompom allium seed heads anchor this bed
Golden foliage of Sedum 'Angelina' becomes a canvas for bold brush strokes of blue Brodiaea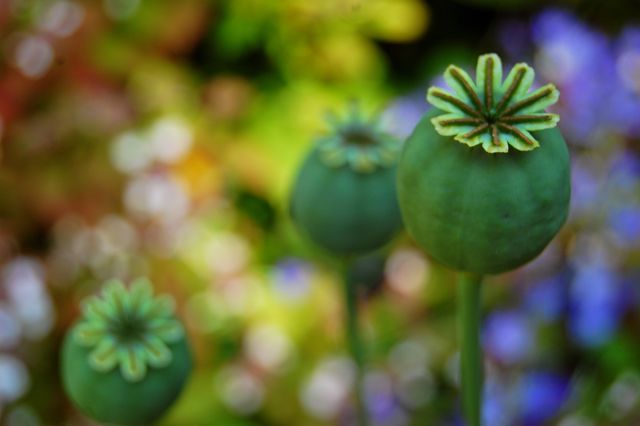 Poppies are among my favourite decorative seed heads
Not a great photo in the bright noonday sun, but it highlights the river of spent allium flower heads