Hosted on every 15th of the month by Carol of May Dreams Gardens, Garden Bloggers Bloom Day is a chance to share what's going on in your garden, month by month, all year through. It's also a chance to look back at your own garden from year to year, to review the changes, positive or not.
After 2011's rainy, rainy spring, everything in the Microgarden is lush to overflowing. Once again, the starry heads of Allium christophii are centre stage, this year taller than ever. The frosty variegations of Hosta 'June' make a lovely foil for the purples and blues, with a shot of purple-tinged orange from the new Heucherella 'Sweet Tea.'
Everything is doing so well, in fact, that the Microgarden is running out of room. Again. Division is called for. And, with division, the opportunity to move things around and make new pairings. Matchmaking, in other words. Here are a few matches, some of which still have a good relationship. Others… well, see for yourself. What's working (or not) in your garden?
Hosta 'Golden Tiara' and Geranium sanguineum stand up to my dry, sandy shade and "play nice" together.
Euonymus fortunei 'Emerald Gaiety' with Potentilla 'Abbotswood', blooming happily after our wet spring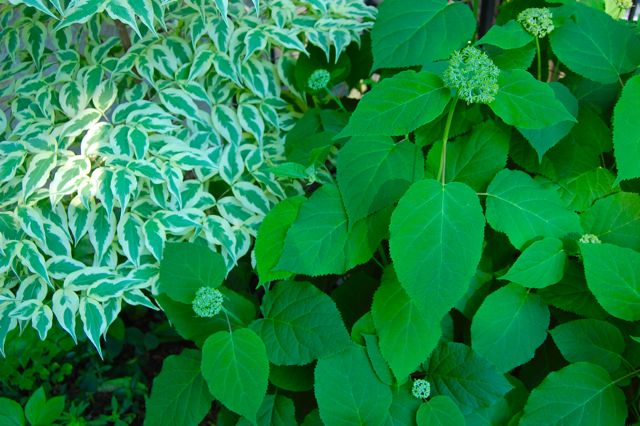 Cornus kousa 'Summer Fun' being bullied a bit by an over-exhuberant Hydrangea 'Annabelle'. Need to edit!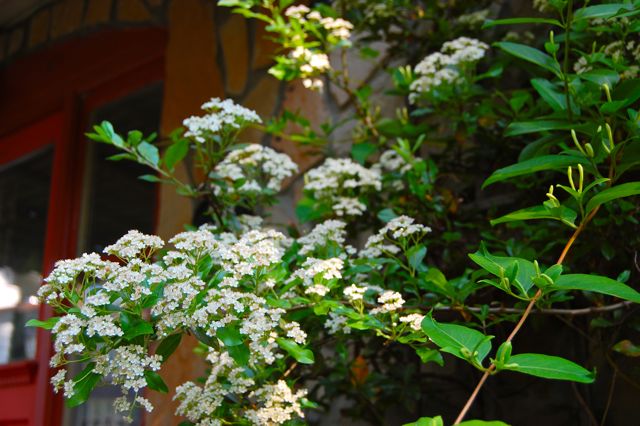 Pyracantha 'Mohave' sharing a trellis with fragrant Lonicera japonica 'Halliana'. A good trick for a small garden.
Finally, a match I'd like to discourage: Nepeta racemosa 'Walker's Low' (a catnip) and the neighbourhood cats who like to sit on – or more accurately, in – it, flattening it right in the middle. Now calling this plant catnest.