Double bloodroot (Sanguinaria canadensis forma multiplex AKA S. canadensis 'Flora Pleno')
At last, I can put a tick mark on my Lust List: I now have double bloodroot, the fluffier, multipetalled version of the native spring ephemeral, Sanguinaria canadensis. The large-format image was a must here, that's how much in love I am. They look so fetching with a few raindrops on the petals! Sigh.
Bloodroot is a diminuative ephemeral that blooms in the spring. Ephemeral means it sends up flowers and leaves, then in late spring disappears. No, you haven't killed it. That's how it protects itself from the heat of summer; it goes into dormancy. Then, next spring, the beautiful display begins again. The flowers are a joy. After they fade, the lovely foliage enlarges until it's time to say bye-bye.
Already, a lovely clump
The name bloodroot comes from the orange sap that exudes from the cut root. Native Americans used this as a dye, and in fact gave this plant its another common name, red puccoon (from Virginia Algonquian poughkone via Merriam-Webster; it means a plant used for a red or yellow pigment).
Double bloodroot can be hard to find. I know that Marion Jarvie sometimes has some for sale. One online nursery in the States was listing it for $28 a crack. I was lucky. Mine was a gift.
This is its first spring, and I'm hoping it will be happy. The site conditions are favourable: partly shady, with well drained soil, and right by my rain barrel, so no excuse for not keeping it moist.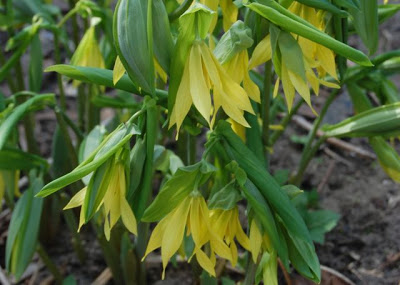 Uvularia grandiflora, also known as bellwort or merrybells
Another favourite among the spring emphemeral natives isn't found in my garden… yet. However, it grows down the street at my neighbour T's, so I have hopes. [hint hint] It's called Uvularia grandiflora.
Uvularia is quite the name, isn't it? Apparently, it was so called because the nodding buds looked like an uvula – that little dangly thing at the back of your throat. I prefer the common name, merrybells.
By coincidence, the plant sale for the North American Native Plant Society is May 7, 2011 at Markham Civic Centre. I don't know if they'll carry these two, but you're sure to find many other beautiful natives for your garden.