Historic industrial space becomes an innovative park at the Brick Works
Despite the grey skies, a sunshine of ideas bloomed at the Toronto Alliance for Better Parks Summit last Saturday – ideas about the importance of parks to people, and importance of people to our city's parks. Where better to do this than at the Evergreen Brick Works, one of Toronto's most innovative public spaces.
We're blessed with parks in Toronto; about 1,600 of them. Half of us visit a park at least once every week. Yet, many of our parks need fixing – a matter that hasn't been high on the fiscal agenda. People, and the people we elect, tend to take parks for granted.
If you have a park nearby, it might have a Friends of… citizens' group trying to make it better. Park People is a new advocacy group that wants to bring groups like this together (and together with the powers that be) to help each other speak up – and get others to step up – for our parks. This inaugural Parks Summit was Park People's first initiative. Judging by the packed room (my daughter and I were lucky to get tickets), it's a group whose time has come.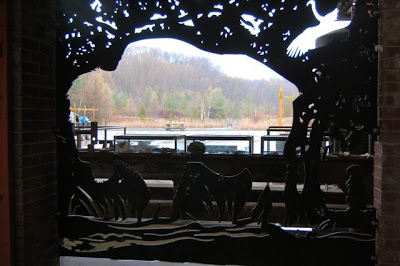 Art around the park offers a window onto its ravine setting
The keynote speaker was Tupper Thomas, who was put in charge of bleak and benighted  Prospect Park in Brooklyn, New York, back in 1980. Over 30 years, she helped bring the park from near-death to one of the best parks in New York – a place that the entire community feels ownership and pride in. Her story and enthusiasm were inspiring.
Tupper Thomas' high-level message: this could only have happened because there was an alliance of three essential groups: the public and private sectors – and the people.
The people. That's you and me, as the next four speakers made clear. All were volunteers in their communities, just regular folks, who'd summoned what the moderator called the "rebel impulse" to entice their neighbours into their parks: with pizza nights at the Christie Pits; open-air skating rinks in Scarborough; a lively weekly bazaar in Thorncliffe park; campfires and hot chocolate for skaters in Greenwood Park. They gave people a reason to meet you in the park.
Restoration of the Don Valley is part of the program
With people actually using them, their parks became like town squares, gathering places. And not only did they meet each other, said Monica Gupta of Friends of Christie Pits Park, in getting to know their neighbours, they also came to know their neighbourhoods.
When our kids were small, the playground was often where we'd meet the parents of other children. Nowadays, I see this when visiting the dog park with Sarah; you meet other dog owners. Give people reasons to come to our parks, and they'll find community.
"Be the change you want to see in the world," wrote Mahatma Gandhi. That was the biggest message I took home after the summit: the importance of grass-roots action by people like you and I.
Meet you in the park? (If you have a few minutes before then, click through to this Parks People Flickriver for a collection of wonderful Flickr images of parks around the city and around the year.)
A birdhouse at the Brickworks shows a little love. In the background, a novel green wall sculpture is a huge map of Toronto made of rusted steel, illustrating the city's network of waterways (the growing bits) and thoroughfares.