Some early downiness from the downy serviceberry (Amelanchier) branches I'm forcing
As winter has thrown an I don't wanna go to bed! tantrum in Toronto, I'm extra glad I decided to trim off a couple of wayward branches from my serviceberry last weekend – and pop them in a vase for early spring bloom. In just a few short days – just enough to blanket the city with snow again – the buds are already starting to break.
Will we see flowers? Well I guess we'll have to, er, see. But even the emerging pinky green leaves would be welcome. More than welcome!
It's at this time of year when I feel most like conducting random acts of gardening to improve the form of neighbours' scruffy Forsythia shrubs (and cadge some branches for forcing). Is there anything to beat a long-lasting bouquet of golden-belled forsythia boughs when spring is looking its most bedraggled?
Forcing branches is so easy, we should all do it. A sharp pruner, clean water and a suitable vase are all you need. Plus, of course, branches, of which forsythia and serviceberry are only two possibilities. For those can't wait for spring days, this simple trick is the perfect mood lifter.
I posted a link with info on our Toronto Gardens Facebook Page. Why not check it out and give it a try?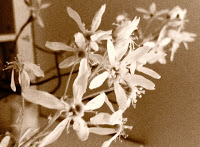 [UPDATE:] It's two weeks later, and my branches are now sporting their delicate white flowers – and without the wind to waft it away, we can also enjoy their light fragrance. The furred flower buds were an interim attraction. Do give it a try!