She's a perfect poster girl for my post on yellow: the much-maligned Hemerocallis 'Stella de Oro' (not, as is often written, 'Stella d'Oro'). This photo shows how effective she can be "when well used."
The day is grey. Grey, grey and more grey. Plus, it's December. Naturally, this inspires me to begin a series about colour in the garden.
What could be more apropos than to begin with yellow, the colour of that missing sunshine? When people, by whom I mean gardeners, declare they don't like yellow, it always surprises me. Don't like yellow? Yellow? What's not to like? Like poor old Stella de Oro daylilies, the plant that gardeners love to hate, it seems to me that the colour gets all the blame for the sins of the gardener.
We need a serious dose of sunshine, so I'm here to sing the praises of yellow. Think of it in all its variations, from the palest buff of fall grasses to the trumpet blasts of daffodils, from the bordering-on-greens to the tinged-with-reds. Yellow can be an accent or a complement. The blues of blue, f'rinstance, look just that much bluier when paired with yellow. It's a simple law of physics.
So let's have no more of that I hate yellow stuff, gardeners. First, hate is an emotion that doesn't belong in the garden. Second, it's shockingly limiting to cut yourself off from the full colour palette that nature provides us. Don't hate; be brave enough to embrace your inner yellow.
Now, enjoy the pictures, and please come back to think colourful thoughts.
What could be cheerier than that blast of yellow Forsythia in the bereft, early days of the year? Thanks, Mr. Forsyth (the 18th-century royal gardener, and co-founder of the RHS, whose name this shrub bears). Available in a variety of yellows, there's sure to be a forsythia that appeals to one's delicate sensibilities – even if just in someone else's garden.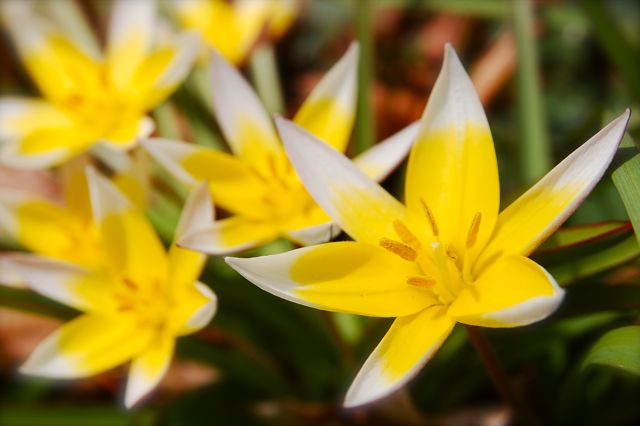 Some people object to the shade that my sister Sarah calls "eggy yellow." Yet the sunnyside-up colours of Tulipa tarda are so welcome in the spring garden. This is a low-growing species tulip that is fairly reliable about making repeat appearances year after year – unlike some of its puffed-up cultivar cousins.
Who an remember a) walking through Southern Ontario woodlands in spring and b) actually seeing wild dog's-tooth violets (Erythronium) blooming at the foot of sugar maples, cupped by red-spotted leaves? This sweet woodland native comes with other names equally enchanting: trout lily and adder's tongue. Its lovely pale yellow goes with everything. (Get it, or any native, from a reputable supplier, not from the forest!)
Laburnum or golden chain tree can be a dramatic sight in late May or early June. This showy member of the immense legume family is a distant cousin of peas and beans. But please don't eat it – all parts of the laburnum are poisonous.
Hosta 'June' is one of the loveliest of the bazillion hosta cultivars. Its frosted leaves with striations of creamy yellow, green and blue make a bold accent in themselves, but also a great complement to other colours in the garden. To quote Sir William Lucas speaking to Mr Darcy: Who could object to such a partner?
Ginkgo, ginkgo, ginkgo. No, I'm not doing a bad Cary Grant impression, I'm reminding myself how to spell the word. It's gink-go, not, as it is usually pronounced, ging-ko. By the way, the fall leaves are fabulous. Yes, that's the technical term.
Yellow isn't usually cited as an effective fall colour. It's hard to believe when you see this. The katsura tree (Cercidipyllum japonicum) can not only give you smack-on-the-upside-of-the-head yellow fall foliage – it can, if you're lucky, smell like candyfloss.