Guess which witch caught my eye while walking?
Are they witches' caps or gnomes? Whatever they are, they called to me (and my ever-present camera) from the shrubbery as I power-walked through our neighbourhood at 7:30 this morning.
Not till I started to move again did I realize which witch was witch-hazel… in this case, the native Hamamelis virginiana shrub making with the golden leaves and flowers above.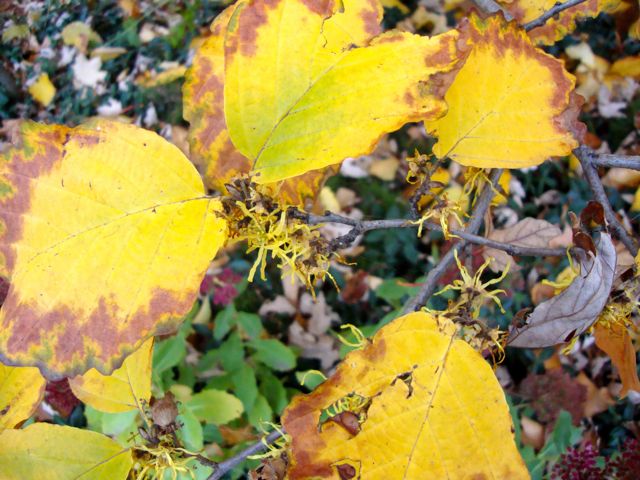 Hamamelis virginiana's threadlike blooms appear in autumn
H. virginiana blooms in fall, unlike the Asian witch-hazel hybrids I wrote about in March 2009. Those flowers appear before the leaves, making them quite showy, especially early in the year. The native shrub is much more soft-spoken. That's why I almost missed the flowers, hidden between leaves of a similar hue.
Interestingly, witch-hazel is neither witchy nor a hazel. "Witch" derives from the Old English "wych" referring to the pliable branches, sometimes used as "witching rods" for divining water, which is a kind of witchery in itself, I suppose. "Hazel" refers to the similarity of the leaf shape to the hazelnut or Corylus, which in fact is unrelated or very distantly so. (I had to look it up: They both belong to the Eudicot clade of Angiosperms. I know, you were just about to say that.) Instead, Hamamelis is a cousin of Fothergilla, another native shrub with wispy petals and great fall colour.
For more reading on witch hazel, you might enjoy this excellent article by Steven Foster or the useful pictures on Walter Muma's Ontario Trees and Shrubs. And when you're walking through your neighbourhood, keep your eyes open. You might catch this native shrub casting its gentle autumn spell.