Savoy cabbage is one of many cole crops that like a touch of frost.
With a few exceptions (we still have some carrots to harvest), we wrapped up our community garden plot back in October. But, next year, I won't be so hasty. The pictures here, snapped a day or so ago, are reminders that it's possible to keep things – the right things – going in the garden till well into the cooler weather.
Sure there are frost-tender babies like tomatoes and beans. Yet many leafy greens such as lettuce and spinach actually prefer the cool weather. Root veggies like my carrots are protected by their underground "root cellar." Some vegetables, notably those in the cabbage family (such as, well, cabbages and brussels sprouts) taste sweeter after being kissed by frost. Swiss chard, which is in the beet family, is also tolerant of frost.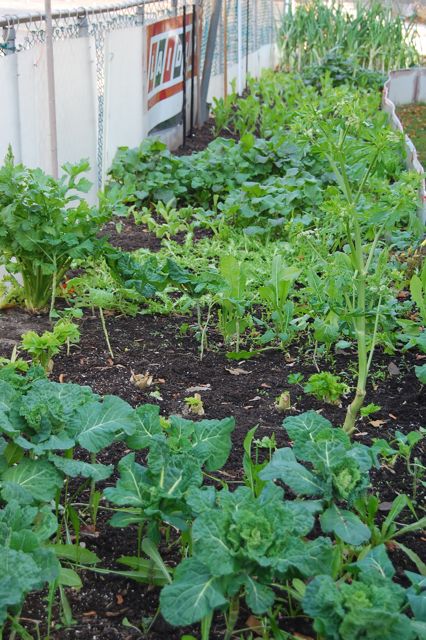 Just look at the bounty going on in this garden in the first week in November: Chard, celery, romaine lettuce, cabbages, what looks like dandelion greens to my untrained eye, and a veritable forest of leeks. I think I even saw a few potatoes (explanation below)!
I've written about this veggie garden before, here and here. In this case, I'm guessing the panels on the fencing extend the season by screening the garden from the north winds and perhaps even retarding the frost (which might explain the potatoes). Nevertheless, if you have a garden plot, you have little to lose by giving late season crops a try. I know I'm going to.
Check for frost tolerance and early maturity when you're selecting your varieties – some are tougher than others. With a 60-day maturity, you could be planting things as late as late August or early September. Who knows? When you grow your own, you might even find you like brussels sprouts!