Little did I think that when I dropped by The Stop Community Food Centre Green Barn at the Wychwood Barns on Thursday that Jamie Oliver would be hot on my heels.
Sure enough, the super chef, food activist and all round cute guy visited The Stop the very next morning. Ah, my almost-brush-with-greatness.
In the article linked to above, Nick Saul, The Stop's executive director, writes that Jamie Oliver was blown by The Stop and its programs:
'I showed him around and he was totally impressed by what we're doing at The Stop. In fact, he told me he'd been all over the world and it was one of the coolest places he'd been.'
Great minds, and all that; I felt the same way.
The Stop started as a food bank, and now is one with a difference. It doesn't simply dispense food, it actively involves its community in choosing it, learning to grow it and, in its community kitchen, to cook it – helping the people it serves develop important skills. But it has become much more; a social hub for the community.
The first thing that impressed me about The Stop's Green Barn is how large and well equipped it is. The 3,000-square-foot greenhouse has everything needed to get growing.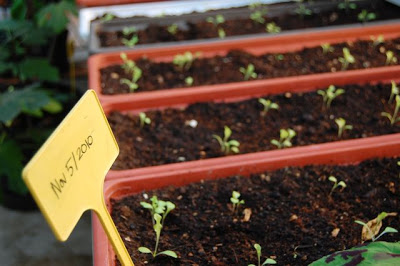 I could almost hear the sound of seeds sprouting as I passed the tables.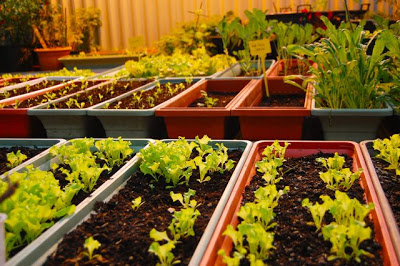 The Green Barn and two community gardens produce 4,000 pounds of fresh, organic food a year for The Stop.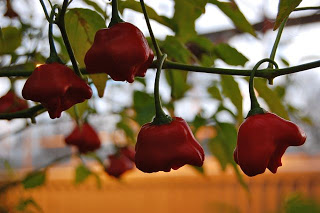 This enormous (Scotch bonnet?) pepper plant was still loaded down with fruit.
A rack of paper bags illustrates the best way to dry herbs. The paper bags keep off ambient dust and allow moisture to escape, while added holes enhance ventilation.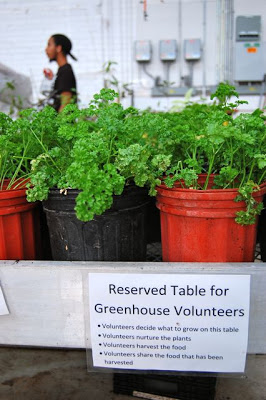 Volunteers are essential at The Stop. This table holds some of the perks. In the background a volunteer waters the greenhouse's mushroom-growing project.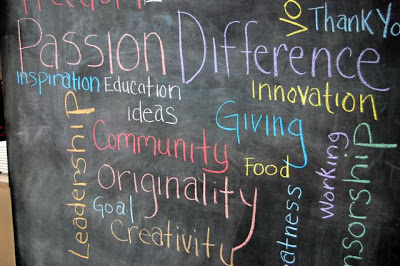 This word cloud outside the kitchen door says it eloquently.
I encourage you to visit The Stop's website and read the FAQs. It is an amazing organization that deserves all the support it can get.