Finding hidden gardens is always a sneaky treat. Sometimes they arrive all by themselves, or with help from humans, in tucked away places, like Toronto's famous back alleys.
These alleyways, constructed in many Toronto neighbourhoods to facilitate access to garages, usually extend the length of a block. There is something so timeless about walking down one of these hidden thoroughfares, away from traffic and noise. I love seeing the back view of the city. Everything is a little messy, a little countrified, because nature has had her way with the space. It's the kind of mess I like. When dog walking I'll often detour into the alley. It makes a walk more like an adventure.
When was the last time this garage door was slid open, I wonder.
Not only do we find wildflowers, wild vines and weeds galore, but we see garden delights peeking up over the fences here and there. A vine threatens to engulf a car here. It's a taste of what happens to humans' "stuff" when nature takes over what we leave behind.
This painted door is especially fun to encounter on a gloomy day.
Garage doors line the alleys, painted different colours, in various states of disrepair or fastidious renovation. Sometimes a cheerfully whimsical painted mural will appear.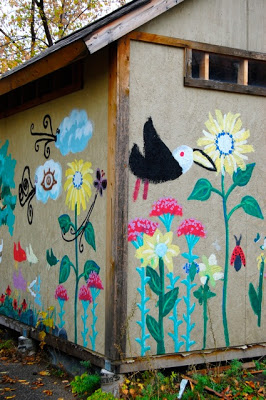 It's like Richard Florida's "messy urbanism" in a citified country stroll, and is part of what makes Toronto, Toronto.