The good-things-come-in-small-packages garden of Paul Geary, he of Petal Pushers garden therapy, is around the corner and down the street. To compensate for the petite size of his own garden, Paul has made his city-owned boulevard strip a thing of beauty. Right now the strip is a particularly fetching bouquet of purple and gold.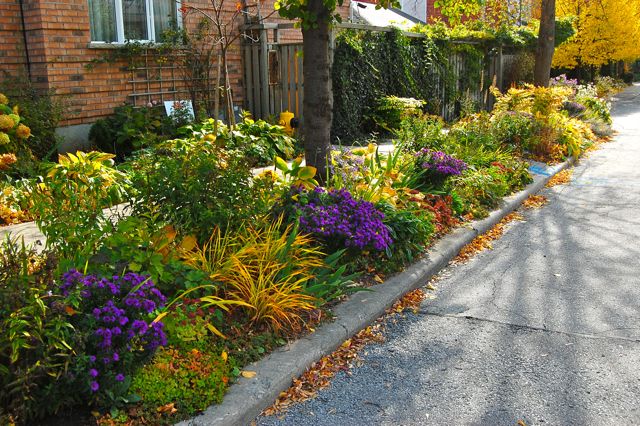 See how the repetition of the same deep purple draws your eye along the strip? Purple asters (Symphiotricum) complement repeated golden fall foliage in different textures, from the gold in the neighbour's linden tree (Tilia cordata), to the grassy daylilies (Hemerocallis) and the taller, arching stems of the Solomon's seal (Polygonatum) below.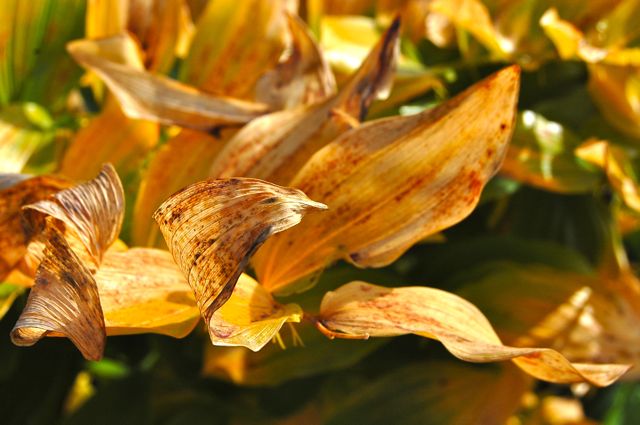 Solomon's seal is one of my favourite architectural plants, with interest through the growing season. In late spring, the stems sport rows of small pendant white flowers, and the leaves often wear pearls of water after a rain.
For variety, Paul has selected flowers in closely related (analogous) shades of pink and mauve, along with white. While mixing and matching unrelated colours would have made a rich fall display, it wouldn't have given the garden the same unity.
That ability to pull your eye through makes a small space seem larger. From this angle, for instance, some of the purple repetitions are hidden. Compare this to the effect in the second image. Still beautiful, but without that je ne sais quoi (except now you do sais quoi: it doesn't have the same pleasing rhythm.)
Elements to repeat include texture, colour, form and scale, through foliage, flowers, ornamentation, or hardscaping. Once you get the hang of it, you can mix it up by repeating something in different materials. Maybe it's spheres of clipped box, round flower heads of globe thistle (Echinops) and, hey, even bowling balls!
Why not? If something is good, it's usually worth repeating.