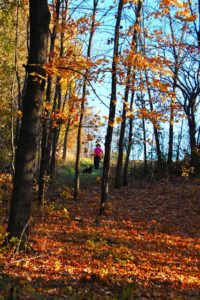 I'm thankful there are still stars in the sky. You're apt to forget about stars when you live immersed in  the light pollution of a city.
This Thanksgiving, Sarah's family and mine celebrated together at her one-room schoolhouse in the country. Urban glare is starting to creep in at the corners of her sky, but it's still inky enough to see the stars. The Milky Way had spilled across Cassiopeia's gown again. The Big Dipper was dipping into the horizon. In the other direction, the seven-star Pleiades cluster made a bright smudge as Orion chased the Seven Sisters above the cherry tree.
In the morning, we went searching for fall colours. That was a surprise. There are more red leaves in Toronto than there are in some rural areas right now. So enjoy the show from those red and orange sugar maples as you drive along the Don Valley Parkway. Frost will soon bring down the curtain.
Meanwhile, here's a little country walk to round out your Thanksgiving weekend 2010. I hope you all had something to be thankful for.