Q: I am hoping you can help me with my Annabelle Hydrangeas. Last year I planted 15 small plants. This year they look as though they are receiving IV steroids every day.  They are 5 feet tall and have enormous flowers that are absolutely beautiful.  The problem is that we have had so much rain and when it rains they fall over from their weight and size.  What can I use to support them and what is the best way to prune them so they do not grow this large next year?  Last fall I cut them back so that there was about 1 foot of the plant showing.  I live in Chicago and they are covered by snow all winter. 
Thanks for your help.
Leslie
A: Hi, Leslie,
If you've been having the same rainy weather we've had in Toronto (the rainiest June on record; and it ain't ovah yet), that's the reason the Annabelles have done so "well" — in quotation marks because the rain makes the plants taller and the flowers bigger, but then they are even more heavy headed when filled with rain. The "hydra" in hydrangea relates to their love of water.
Sounds like you did all the right things. One thing I do to give them a bit more support (though mine are flopping now, too) is to leave last year's stems a little longer. In other words, prune them back to 18-24″ rather than 12″, giving them a woodier base. Cut them back in spring (not fall) to just above a set of fat buds. Cut out any weak-looking stems to the ground. Our post about pruning Annabelle hydrangeas is one of our most popular hits.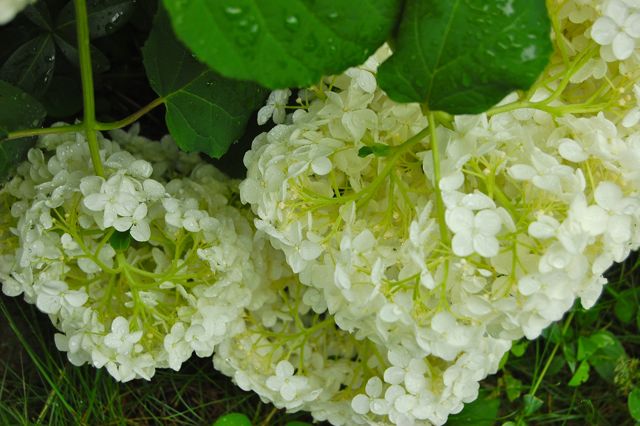 You could also try staking them next year. Inset thin bamboo stakes (mimicking the framework of the shrub) which you connect through the body of the shrub with a network of twine. Do it at about the time the shrub begins to set flower buds, when it will be close to mature height for the season, but before the flowers become too heavy. Cut off the tops of any stakes that protrude above for a more natural look. With 15 plants, staking would become a big job for you, though, and you probably chose Annabelle for its easy care. I don't stake mine (as you can see by my Annabelle Goes To Oz pictures).
There is an improved version of Annabelle out now from Proven Winners. It's called Invincibelle Incrediball (and a similar pink version called Invincibelle Spirit), and I believe the main improvement is that it is less likely to flop. I don't know how well those claims would stand up, literally or figuratively, in this year of the big rains, though.
2010 has been an unusual summer. The Annabelles aren't always this big, and they aren't always flattened, so frequently, by so much rain. You could give them another try without intervention next year and see what happens. Some things are beyond our control, and simply require a Zen attitude.
Hope that helps. Let me know what you decide to do.
Helen at Toronto Gardens
P.S. Anyone else out there have good solutions? Please comment.