Welcome to the Microgarden this Garden Bloggers' Bloom Day. Hope you like my new cushions… and enjoy the jasmine fragrance of the Hall's honeysuckle (Lonicera japonica 'Halliana') by the front porch.
I wrote recently about the nice perfume of the black locust tree. Well, Hall's honeysuckle is yet another of those highly invasive plants with a lovely fragrance. Coincidence? It's showing its invasive tendencies in my garden by climbing up and through anything and everything. Like up the Pyracantha growing behind the bench… and now behind the honeysuckle.
(What you don't see in this picture: my air conditioning unit and the empty pots below the bench, all carefully cropped out.)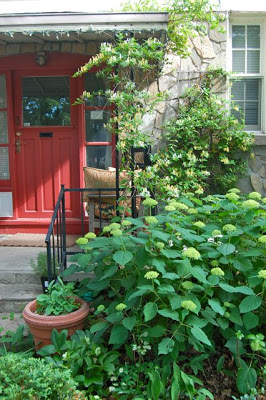 Also in bloom, or getting there, is Hydrangea 'Annabelle', one of four varieties of hydrangea in my garden (the others are H. 'Limelight', 'Pinky Winky' and 'Quickfire'). Four! I don't know how this happened. Let's just say, I must be a sucker for a good plant pitch. So far, 'Annabelle' has proven herself to be the winner (despite the brand name on the other guys, who have yet to be proven).
(What you don't see in this picture: the huge, growing hole in my box (Buxus) sphere. Imagine the scene in the sci-fi movie, where the planet is zapped, shimmers for an instant, then begins to disintegrate. That's what winter-kill is doing on the sunny side of the box. Poor thing, it is not much longer for this garden.)
Next in my Blooms Day lineup is a new arrival, Rosa 'Floral Fairy Tale' – kindly supplied by Palantine Roses as part of the generous swag at the Garden Writers Association District VII meeting this month. Do I have room for another rose? Ask the hydrangeas.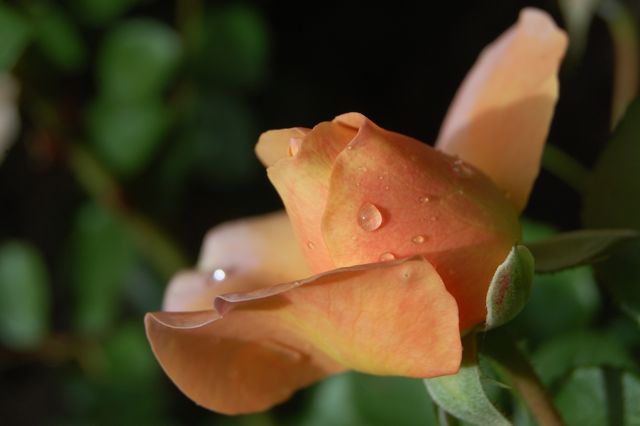 This is one lovely rose, growing 2-3′ tall, with an apricot bud that opens to pinky-apricot with a yellow centre. It's lightly scented; very lightly. If it had more fragrance, it might be too close to perfection.
(What you don't see in this picture: The places where maurauding raccoons sat on my Allium christophii, now wearing crutches – the alliums, not the raccoons – and not only squashed my 'Helen Elizabeth' poppy flat, they chewed and spat out the buds of its first-ever blooms.)
There's usually a story behind every pretty picture. For more stories, and more pretty pictures, visit May Dreams Gardens, where every 15th of the month Carol graciously invites bloggers from around the world to show their stuff. Or not.