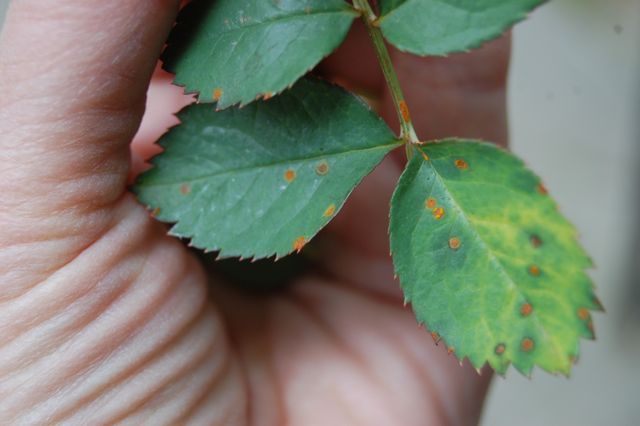 Rust! I have rust. For the first time ever, rust on my roses. Not on my tough-as-old-boots Rosa 'New Dawn', but on my I-had-such-high-hopes-but-it-seems-they're-coming-to-naught David Austin rose, R. 'William Morris.'
Rust is a fungal disease, which spreads by spores. Sometimes, rust on roses is co-hosted by junipers, so I'll have to inspect the tree in my neighbour M's back yard.
As nine-tenths of pests and diseases have a cultural basis, however, I think I have only myself to blame: I moved 'William Morris' earlier this year, reducing its root system. Then we had that hot spell in April. It's likely that the combination weakened the rose. With the recent cold, wet weather, the rust was ready to move in and found a willing host.
Here's what the rust fruiting bodies look like on the back of the leaf.
You can control rust with a sulphur treatment, which is one of the things still permitted under the Ontario Pesticides Ban. So far, as it's not too widespread, I'm taking the first line of defense, which has been to carefully remove the rusty leaves and discard them. Hopefully, that will delay the spread. Cross your fingers.