Oh, what a tangled web we weave… when we don't know how to prune a weeping mulberry (Morus alba 'Pendula'). You can see this popular weeping standard tree all over the city – and when not wearing its cloak of green, the tangled, haystack-headed results of improper pruning are only too evident.
Therefore, when I do happen upon a weeping mulberry that's even close to looking the way it's meant to look, I put on the brakes and hop out with the camera. Voici: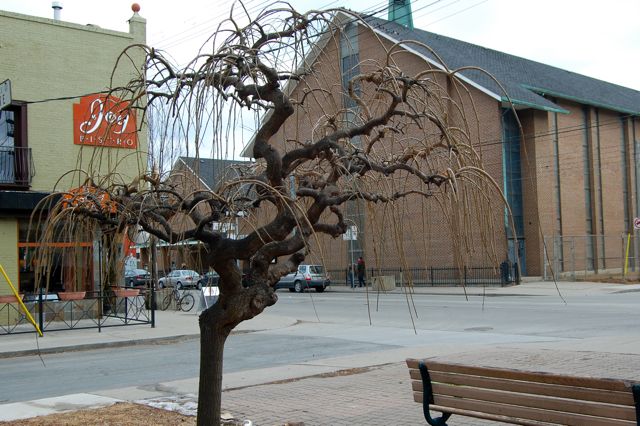 When I point out the good from the bad, I've had people say to me in disbelief: That's the same kind of tree? Why, yes, by gum, it is – only with some attention to pruning. With spring on its inevitable way in, the next week might be one of your last chances to prune, as it's best done during dormancy. Otherwise, cut branches have a tendency to bleed.
Naturally, when pruning any trees or shrubs, the first rule is to cut out any dead and/or crossing branches. The same thing applies with the weeping mulberry. But there are also more specific techniques, and they're easy, once you know how. The weeping Camperdown elm (Ulmus glabra 'Camperdownii') should be pruned in a similar fashion.
The tree above isn't perfect, by any means. At some time in its past, the caretaker allowed one of the vertical branches to remain, and if this keeps up the tree can become too tall and difficult to reach for pruning. You can see the runaway vertical branch rising from the centre of this tree form.
So that's the second rule for pruning the weeping mulberry: cut off any vertical or upward-growing branches.
However, let's talk about what they've done right here. Do you see the open form of the tree, compared to the first example, with its branches cascading in a waterfall pattern? Here's a closer look.
The lower branch shows what correct pruning can produce over many seasons. See how the branch seems to make a series of little bridges?
Below is a shot of what typical branches would have looked like before the cuts. I'll give you a nice big image to make the tangle clearer.
Can you see the type of branch forms where you would make a cut to produce those little bridges? In this case, I've circled possible cuts on the same branch – you'd make one or the other. Cut close to the joint, without leaving a stump.
Can these trees be saved? Perhaps – over time. The job is complicated by the volume of untrimmed branches from past seasons. When pruning, it's rarely a good idea to cut out more than one-third of the branches at a time (some shrubs are exceptions, but I won't go into them here).
A weeping mulberry is in fact a prostrate or ground-hugging shrub that has been grafted onto an upward-growing trunk. If you cut back your weeping growth too far, you risking having the species in the standard or trunk take over.
The best scenario is to start building the form of the tree while it's young. And if you have a young or young-ish weeping mulberry, you have a chance. So… read this and weep.
[UPDATE: Since posting this, a few people have written to us to ask for advice on pruning their own weeping mulberry. We should note that the art of pruning is something that can't be done remotely from photos. Also, it can be difficult to rehabilitate a mature tree of any kind if it hasn't been well-trained from an early age. If you have a mature tree that needs serious attention, and you don't want to attempt it yourself (which you should never attempt if there's the chance of injury to you or your tree), our best advice is to contact a local certified arborist for consultation and/or service. Tree people do it best.]