Only two Toronto neighbourhoods with garden-themed names come to my mind. One is Rosedale, north of Bloor Street edged on the east by the forested slopes of the Don Valley. Its winding streets are lined with grand, historic mansions. Rosedale got its name from the profusion of wild roses that once grew on the hillsides there.
Then, almost cheek-by-jowl to Rosedale, south of Bloor Street, is Cabbagetown. Its name came from the fact that in Victorian times, the original residents – mostly poor Irish immigrants – used every scrap of land, even their front gardens, to grow vegetables. Cabbages (and the smell of them cooking) were the most obvious, hence the pejorative Cabbage Town.
The world has come full circle, as front-yard vegetable gardens are making news, even in front of fancier homes. Cabbage Town has become Cabbagetown, said with pride of place. With its pretty Victorian cottages, it's now a desirable place to live, yet still down to earth and a little rough around its edges.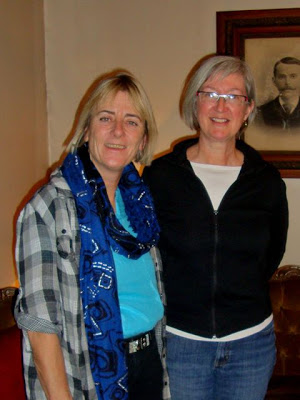 In this appropriately garden-themed area yesterday, I met up with peripatetic British garden blogger – Charlotte, The Galloping Gardener – for a glass of wine at The Cobourg on Parliament Street. It's a thrill to give a virtual relationship a face and voice. We caught up after her visit to Niagara Falls – although rain did a big Niagara act just as she and her husband arrived. Sorry, Charlotte. We'll aim for better weather next time you visit.
Charlotte's prose and photos make you yearn to visit the gardens she writes about. She has been impressed with the gardens she's seen in Canada so far – which are often under-appreciated. Never a hero in our own country, eh, Canadians?
Our Cabbagetown meeting reminded me of one of our mum's expressions: that babies come from "under a cabbage leaf." I'm hoping that under this cabbage leaf is the infancy of a long and rewarding friendship.