A week ago, Sarah and Helen joined a packed crowd at the Toronto Botanical Garden to see English garden guru Matthew Wilson (aka the Heathcliff of the Hedgerows*).
His RHS book New Gardening: How to garden in a changing climate was on sale at the event. [Update: At first, I couldn't find it online in Canada — then an alert reader advised that it was available at Chapters/Indigo. However, to find it there, I had to search using "Matthew Wilson." Searching for the book title came up a no-show. Go figure. Link updated.] Helen's autographed copy is a trove of inspiring photos and lots of chewy ideas.
Here's our take on the event:
Sarah: Refreshing that he talked up-front about the Elephant in the Room (climate change). Right now, there's a tension between the all-or-nothing approach of environmental "fundamentalists" (his word) – people who have made the lifestyle choice not to fly, not drive, only buy organic, only local, etc. – and the larger group of people who want to do the right thing but aren't willing or able to be completely hardline. Wonder if this divide is more stark in the UK?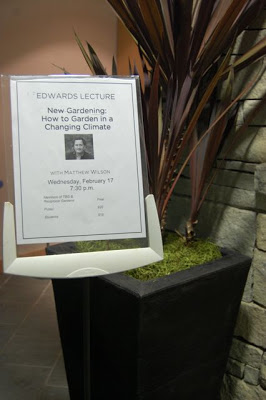 He doesn't believe that we must all "wear sackcloth and ashes" (again, his words and not "air quotes") when it comes to the environment. On the other hand, we can make sure we do things that are benign, or good, for the planet — and gardening unquestionably is a good thing. That way, he sidesteps the debate itself, and just gets on with the discussion about what we can do. Practical good sense.
Helen: Yes, that was smart. I think people find global environmental issues to be big and scary and out of their control. They wonder if personal efforts, such as recycling or gardening, are frivolous and inconsequential in the grand scheme. But he made a good case for doing what we can.
Sarah: Don't forget what he said about the difference between climate and weather. The fact that the UK and the US got so much snow this year has all the nay-sayers going, You see, there is no global warming. But, as he says, that's weather, not climate. Weather is what happens in half an hour. Climate happens over time, and there's no question that over the past century, climate has changed.
Helen: We both like his idea that "a garden is not an island." It doesn't matter how we try to separate it with fences, our garden is just a part of the landscape. We can each harm it, but if we do our bit right, we can all make a positive impact. Plus, as part of the landscape, we can't unilaterally decide not to have a certain thing in it.
Sarah: Uh huh. "We are not masters of the universe. No way, no how," is how he put it.
Helen: We have to accept, for example, that your bugs are my bugs… and that most bugs play a role. Even aphids.
As someone forewarned us, he did make us all stand up and shout, "I love… aphids!"
Sarah: Which was fun! We need to love aphids because they are food for things that do us good in the garden. So to have aphids is to have a buffet for the things we want to encourage. The circle of life and all that… Mr. Wilson certainly makes a compelling argument, not just to tolerate, but to LOVE! Kind of cool perspective.
His humour obviously is a great way to get his message across. All his witty phrases, like, "That's the only picture you'll see of my garden, by the way. I'm the plumber with the dripping taps."
Helen: Me, too. Or, on soil: "This is the stuff from which all life springs. And they call it dirt!?" The audience laughed in all the right places.
Sarah: One of his first slides was of his grandfather's carpentry tools. I love old tools. Matthew now has them, and they still do the job. He compares that to the disposable everything we have now.
Helen: Old tools still work in the garden, too. A spade, a hoe. Good ones last forever, if we take care of them (which I should be better about doing).
Sarah: Then there was: "reuse, recycle, reinvent." His patio, for instance, which was nasty-looking concrete slab. Most people would have said: ugly, get rid of it. But he cut the concrete into large pavers and reused them with old bricks as a mosaic. Brilliant.
Or the old garden shed made of "unknown in any natural form" orange wood which he re-clad in logs for the RHS garden, and the log bench with its earth roof.
Helen: You get pictures and instructions for the bench in his book. (See photo.)
He also talked about microveg gardening – which is harvesting veggies when they're tiny and the flavour is most intense. Or potting up your grocery store garlic to keep it succulent. These are ideas that anyone can do, even in the smallest garden, patio or balcony.
But many of the things he talked about were things that gardeners know already. Good garden practise: Feed the soil, not the plant. Compost, compost, compost.
Sarah: Yes. "Compost heaps usually are hidden at the end of the garden like a mad cousin." It occurs to me that that analogy fits with his gothic nickname. Instead, he says the compost should be in with the rest of the family and looked after.
He's a big fan of wormeries. In the Q&A period, this is where TBG's Paul Zammit said that he keeps his worms on his desk. I wanted to sneak back there right away and have a look at that!
Helen: And, of course, select the right plants for the garden, "rather than trying to bend the garden to our will." That's my goal for 2010.
I'm so glad we got there in time to snag a front-row seat and connect with other Toronto gardening online peeps, including Barry Parker, Mark Disero and Lorraine Flanigan.
*For another perspective on the Heathcliff of the Hedgerows, visit Kilbourne Grove. Too bad we missed each other at the event, Deborah!